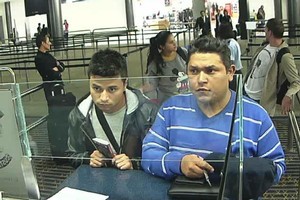 An international gang of thieves who stole more than $770,000 worth of jewellery travelled on false passports, bought new cellphones and hired rental cars to covertly tail jewellers with the sole aim of committing the heists.
The South Americans are believed to have planned the robberies for weeks, if not months, before targeting foreign jewellery dealers visiting Auckland last May. Police still do not know how the victims were chosen.
One was robbed while sitting in his car in Parnell, while the other robbery took place in the carpark of Rydges Hotel in the CBD.
In total, about $770,000 worth of jewellery was stolen by the gang, who tried to smuggle it out of the country.
But the loot was found hidden in luggage at Auckland Airport and sparked a national manhunt for two of the men.
Yesterday, four men - Cesar Orlando Romero, 43, Javier Espinosa Agreda, 27, Jose Roberto Jimenez-Perez, 27, and Juan Carlos Leal Casillas, 27 - were sentenced in the Auckland District Court to three years and six months' jail after pleading guilty to two charges of aggravated robbery.
A 38-year-old woman, Maria Teresa Martinez, was sentenced to two years and six months in prison after pleading guilty to one aggravated robbery charge.
A summary of the police case released to the Herald shows the Colombian nationals travelled to New Zealand on Mexican and United States passports in April last year.
The court documents show they hired or purchased several cars and used them to tail jewellers visiting from overseas. As they did so, they used cellphones to communicate their locations and where the targets were, waiting for an opportunity to strike.
Their first target was John Wertheim, of J.S. Landau Diamonds in Sydney, on May 2.
Mr Wertheim had just visited potential buyers in Parnell and was sitting in his car parked in Gibraltar Cres. He put a black bag containing 700 pieces of jewellery in the footwell of the passenger seat.
Two men approached the car. One smashed the driver's side window and tried to grab the keys in the ignition. While Mr Wertheim wrestled with him, the other man smashed the passenger's side window and grabbed the jewellery, worth $110,000.
Two weeks later, Chin Fung Ng and Aska Lo from Jewel Arts Ltd in Hong Kong came to Auckland to visit potential customers.
On May 17 about 8.45pm, they parked their rental car outside the lobby of the Rydges Hotel in Federal St, where they were staying.
As they got backpacks - containing $660,000 in jewellery - from the rear of their car, a white vehicle pulled up beside them.
Four men pushed them over and ripped the packs from their grasp.
Nearly all of the jewellery stolen in the two heists has been recovered.
In his sentencing submissions, Crown prosecutor Scott McColgan said the five prisoners were part of a foreign crime syndicate and had travelled thousands of kilometres to New Zealand with the sole purpose of committing crime. "The police did their part to make sure New Zealand was not seen as soft on transnational organised crime. Now it's the court's turn."
Judge Roy Wade said the group had spent a a lot of money to travel here and weeks, if not months, planning the heists.
They used false passports or false names, hired cars and bought cellphones for the robberies - at odds with their claims they came to New Zealand for legitimate reasons.
However, Judge Wade rejected submissions from defence counsel to take into account the difficulties the five prisoners would face in jail so far from home.
He said that was the risk of committing crimes in other countries.
All five will be deported once they are released on parole.
Detective Sergeant Phil Cox, of the Auckland CIB, paid tribute to the hard work of the investigative staff who worked on the inquiry.
But he could not comment further as two other defendants will stand trial this year.
OPERATION SOLITUDE
May 2, 2011: $110,000 worth of jewellery stolen in Parnell.
May 17, 2011: $660,000 worth of jewellery stolen in Auckland CBD.