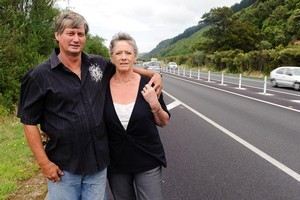 A grieving father says families need to pressure roading authorities to follow up coroners' recommendations to prevent further tragedies.
Malcolm and Sharlene Barnett's daughter Krystal was killed on River Rd, Upper Hutt, when a 19-year-old disqualified driver high on P crossed the centre line on September 5, 2005. A coroner recommended a median barrier for the stretch of road where she died.
The Barnetts lobbied the New Zealand Transport Authority for 4 years for the barrier to be put up.
The Herald on Sunday reported last week that many coroners' recommendations were being lost or ignored by the public bodies charged with making streets and highways safer.
Malcolm Barnett's message to families is to never give up.
"If a coroner gives a recommendation at an inquest don't just sit back and expect that to happen."
The Barnetts believe a median barrier on River Rd at the time of the incident would have saved Krystal's life. Kahn Edwards, 12, who was a passenger in the other car, was also killed in the crash.
"To us the sight of that median barrier is a legacy to Krystal. Even though our daughter was killed that day, this median barrier will prevent other parents and families going through the tragedy that has been our lives since that day back in 2005," Barnett said.
NZTA Wellington operations manager Mark Owen said the barrier took time because land had to be bought to widen the road and consents obtained.
He said during the five years before the $5.2 million project there were seven head-on crashes on the stretch of road, two of them fatal.
Meanwhile, the family of Benedict Skinner, a 30-year-old joiner from Palmerston North killed in a head-on truck crash on SH57 in August 2008, were still waiting for coroners' recommendations to be followed up.
The driver of the other truck, Benjamin Winiata, also died in the crash. Winiata had a heart attack and crossed the centre line. The coroner ruled that a shoulder on the narrow stretch of highway could have let either driver pull off to the left to avoid the impact.
Skinner's sister Anna said nothing had happened since her father Martin wrote to the Minister of Transport appealing for action.
"It should not just be up to sad and angry families to bring about change," she said.