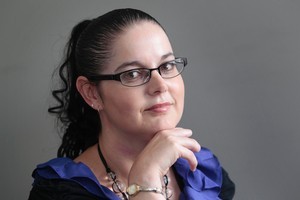 With her hand pinned under rubble, Amanda Fuller lay trapped in the quake-crumpled Pyne Gould Corporation building for six hours.
A year on, she's taking today off - and steering clear of the Auckland high-rise where she now works.
Ms Fuller, 36, lost part of three fingers after being trapped on February 22 last year.
Read more of Amanda Fuller's story here.
The trust consultant has since moved to Auckland, and last week had her first full day back at work, at the Perpetual Group offices on the 17th floor of the AMP Tower in the city.
But she will spend today in her flat, "away from any tall buildings".
She will talk to her Oamaru-based father and other close friends on the phone, and will remember her close friend Kelly and other workmates killed in the quake.
"I try and focus on moving on with life. But building up to the anniversary, especially last week, I was quite emotional," Ms Fuller said.
While moving to Auckland last November had been "brilliant", it had also made last year's trauma feel more her own.
"You feel more isolated. In Christchurch, there are so many people affected. There are people around that have so many stories."
On the day of the tragedy, Ms Fuller had decided to take a late lunch - "it makes the afternoon go quicker" - and was still in the office when the magnitude 6.3 quake struck.
She thought it was just another aftershock, but then it got "very, very violent".
She was crouching to get under her desk when the ceiling fell in. Rubble landed on her right hand and pinned her in place.
In the dark, Ms Fuller called out to work colleagues and got a response.
Her "cave" of concrete and glass was soon lit up by her out-of-reach cellphones flashing with messages and phone calls from worried friends and family.
"I started praying to God and to my Mum. Because my Mum died when I was 21. I said, 'Mum, you've got to help me get out of here'."
One of the women trapped nearby used her cellphone to contact her fiance and updated the others on rescuers' efforts.
About half an hour before she was freed, Ms Fuller reached her cellphone and called her father. "I just said, 'I'm OK, but my hand's trapped.' He said, 'You'll be fine.' I said, 'No, Dad, my hand's not good'."
Adrenalin meant she was numb to the pain, and the six hours trapped felt like three.
Ms Fuller could hear clapping as people were freed, and eventually it was her turn.
When rescuers cut through her desk and tilted it off her hand, she saw that three of her fingers were left behind. "That's when I lost it. It was like looking at a film. It wasn't my hand - it was purple, it was not nice."
Two days later, Ms Fuller was taken for surgery on her hand, but she refused to be put under a general anesthetic. "I said, 'I don't care how sore my hand is, if there's an aftershock, I'm off this table and out of here'."
More surgery and equipment such as special pens and computer software enabled Ms Fuller finally to return to work.
Today she sometimes gets the "phantom" feeling that her fingers are still there.
She still gets a lot of pain, but said going to work every day 17 storeys up and refusing to let her injury interfere with her life were important, given what others had lost.
"[My injury] is nothing, really ... The main thing for me is I realised that life is too short ... and not to take things for granted."