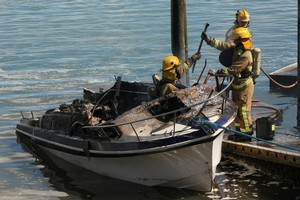 Two people were lucky to escape injury yesterday when their 8m cabin boat exploded at the busy public boat ramp at Half Moon Bay in East Auckland.
The owner of the vessel had just started the inboard petrol engine when the explosion occurred at 9.45am.
The loud blast was followed by flames and black smoke.
A station officer on duty at Howick Fire Station, Kenton Rusbridge, said the glass-fibre boat was burning from bow to stern when two fire crews arrived.
Mr Rusbridge said the response was slowed by public vehicles parked over the nearest fire hydrants and an extra 250m of hose had to be connected to the available hydrants.
The cause of the fire is being investigated.
It occurred in the middle of a packed launching and retrieving area.
Fire crews called on the police to clear the area at a time when about 30 vehicles towing boats - their fuel tanks filled with petrol for the day's fishing - were queued waiting to launch.
After using water to extinguish the burning cabin and fuel, the crew of the harbourmaster's launch towed the smouldering vessel off to the public ferry pier in order to give firefighters a land platform to spray foam from.
The launch also kept away vessels which were wanting to berth.
Auckland Harbourmaster Andrew Hayton said the emergency was well controlled by a co-ordinated response by the Fire Service, police and his staff.
The boat ramp is beside the terminal for the Waiheke vehicular ferry, which left during the incident.
Up up to 800 boats are launched at the public ramp on a fine day.
Bucklands Beach Yacht Club vice-commodore Keith Ingram said the couple were "very lucky" to have escaped unharmed.
"Fire is our biggest risk in the marina."