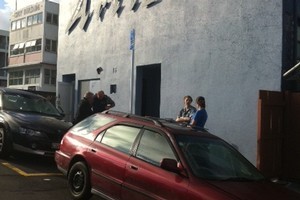 A high-profile Auckland property developer was taken away by police who raided a central city apartment building this morning, says the man's son.
A swarm of armed and plainclothes officers descended on a Karaka St address - described by one resident as Auckland's 'Hotel California' - in Eden Terrace about 5.30am.
They executed search warrants as part of an ongoing investigation by the Auckland City child exploitation team.
The police systematically checked each of the 28 flats at the three-level Artizanz Apartments building and arrested two men and a teenage girl.
The building's owner was taken to the police station, said his son.
He said his father had been taken away in handcuffs.
The son was in his room when police busted through his door and searched his apartment, he said.
"I just heard them going bang on the doors. I came out with my hands up and got thrown on the ground.''
Several residents who lived on the top floor had been taken to the police station, he said.
He said police were searching for a "network'' of people.
Several residents who lived on the top floor had been taken to the police station, he said.
Three of an estimated 10 residents of the building weren't taken to the police station, he said.
Police had raided the site several times before, he said.
The building was previously a warehouse, and had been converted into "party'' apartments by his father, he said.
"My dad bought this place just for a party house. Each room has different themes.''
Another resident Pamela Gardner said police were looking for underage girls and drugs in the search.
"There's no little girls [here], I know 100 per cent.''
Police said a 56-year-old man and 33-year-old man will appear in the Auckland District Court today on drug and fines-related charges.
A 16-year-old girl was also arrested for breach of bail conditions.
The Armed Offenders Squad assisted with the raid. No shots were fired although imitation firearms were recovered from the scene.
Police said six apartments in the complex were the focus of the search. Several items have been recovered and the investigation is ongoing.
Frank Squire, a friend of the building owner, said he'd been invited to live in the building.
He described the apartment block as 'Hotel California', a real mixture of people from all walks of life.
He was speaking to a friend when police burst into his room, and was made to accompany officers as they searched the building.
There was always a "police presence'' around the building, but it had quietened down lately, he said.
Mr Squire said police left with his MacBook laptop but he was not arrested.
Three of the apartments were privately-owned, he said.
- APNZ