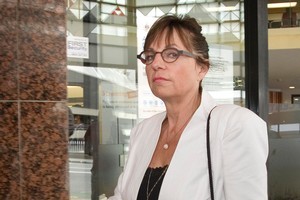 A high-flying estate agent known as "Million-dollar Marnie" has had her licence suspended and been fined $15,000 after pleading guilty to misconduct.
Margaret 'Marnie' Adams, 56, admitted breaching regulations by listing and selling a mansion in Mission Bay without disclosing she had helped buy it. However, she said yesterday that she planned to return to the profession after the suspension.
The Real Estate Agents Disciplinary Tribunal in Auckland yesterday suspended her licence for six months and ordered her to pay a fine of $10,000 and costs of $5000.
In a statement after the hearing, Adams accepted her actions represented an error of judgment and she had "inadvertently breached sections of the REAA industry client code of conduct, for which I sincerely regret".
"My actions were conducted in good faith at all times, and in doing so helped realise the best outcome for both the vendor and the purchaser. I couldn't have built the career I have enjoyed without putting the interests of the vendor first at all times."
Adams was once the golden girl of Bayleys, making millions in commission and becoming its top seller. She left the company abruptly last March and weeks later started work with Sotheby's International.
Questions about her behaviour at Bayleys were raised in January last year after she sold a four-bedroom home in Palmer Cres.
Adams, the listing and selling agent for the property, was accused of planning to help buy and renovate it so it could be resold "for a quick profit".
Bank records show she lent buyer Geoff Harriman $187,250 to ensure the $1.7 million sale went through in 2010.
They were subsequently listed as registered owners along with a trust, JMAR, of which Adams was a trustee.
Bayleys terminated her contract and, as legally required, advised the agents' authority of their concerns.
At the tribunal her lawyer, John Billington QC, acknowledged she was guilty of breaching her obligations, by not telling the owner she had lent money to Mr Harriman or asking for consent to do so - actions that were reckless not wilful, he said.
- APNZ