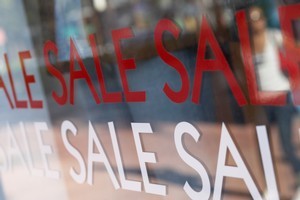 Lay-by shoppers may be unaware of the risks they currently face, assuming the law provides protection it does not, Consumer Affairs Minister Chris Tremain says.
Under current laws, there is no requirement for a formal agreement for lay-by sales, and there are several holes that could leave buyers with shoddy products.
However, the gaps in the law are being plugged by new legislation, which aims to update and merge a number of old consumer-based laws, and spell out the obligations of buyers and sellers.
The Consumer Law Reform Bill passed its first reading in Parliament last week, and will now be considered by the commerce select committee.
Under the bill, a written agreement would be required to clarify the terms of lay-by sales.
It includes a clause that would means sellers would bear the responsibility for ensuring a product was kept in good condition before the buyer took it home.
Mr Tremain said many consumers presumed they were protected, but that was not the case.
"At the moment there's no agreement, so up until now, as I understand it, it's been largely verbal," he said.
The new law would also spell out clearer rules around cancellation of sales, allowing a buyer to back out of a lay-by purchase at any time prior to paying off the product.
The seller would not be able to charge a cancellation fee unless it was stipulated in the agreement.
Trade Me users would also have better protection under the legislation, with the new rules bringing professional traders in online auctions under the Consumer Guarantees Act.
"It will mean that a consumer has the same rights under the Consumer Guarantees Act to have their goods replaced, to expect fair quality - all the standard provisions that a consumer could expect if they were walking into a store and buying something off the shelf," Mr Tremain said.
The law would not apply to one-off and casual traders on the website.
In addition the bill would give the Commerce Commission a wider range of enforcement tools to enforce the Fair Trading Act, amend the Consumer Guarantees Act to better provide for acceptable quality of electricity and gas, and provides for a new Auctioneers Act to require auctioneers to meet a number of minimum standards.
"The consumer legislation really hasn't been updated in 20 years, so it strengthen consumers rights and helps simplify compliance so everyone knows exactly where they stand."
As well as online auctions, the bill also covered a range of other consumer technology, including self-service stations at supermarkets.
- APNZ