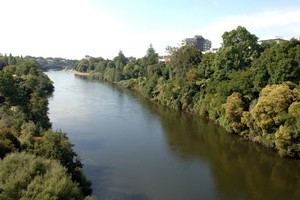 The family of a 13-year-old boy who went missing after jumping off a bridge into the Waikato River yesterday are holding vigil on the shore, knowing that they are now looking for a body.
Zharian Watkins was jumping off the Huntly rail bridge shortly after 5.30pm yesterday when he disappeared.
It is understood he had jumped on top of another boy, who had just landed in the water.
Zharian Watkins, described as a high achiever, is the youngest of three boys and his mother is heavily pregnant with her fourth child.
A local business owner, who did not wish to be identified, could see Zharian's family huddled in a close group on the river bank.
They appeared to be praying.
She had just spoken to the boy's aunt, who had said the family was now resolved that they were now looking for a body.
"She was visibly upset when I spoke to her, crying and looking very sad."
The woman said children often jumped off the bridge, and there were several enjoying the water in the warm weather yesterday.
Searchers were today searching the river as far away as Port Waikato, some 50km from Huntly.
Divers looked under the bridge this morning and a helicopter flew the length of the river, while students and staff from Huntly College took to the water in kayaks to scour the riverbanks.
Three people have died in jumping off that bridge in the last few years and police are calling for signage and cameras to be erected to deter people from jumping off it.
- APNZ