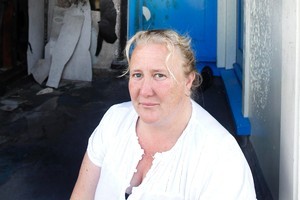 Tracey Nelson at her home where a fire was put out by four 'heroes'. Photo / Christine Cornege
Four men have been hailed heroes for putting out a fire that threatened to engulf Tracey Nelson's house. But Miss Nelson knows only one of the men to thank.
The mother-of-two was on holiday with her sons, aged 12 and 14, when police called to say her Housing New Zealand home in Hamilton had been set alight.
The trio rushed home on Saturday afternoon to find the back porch, including shoes, a chilly bin, some rubbish and a fuse box, had been destroyed in the blaze, which police believe was arson.
If it had not been for the men, Miss Nelson and her sons would have lost everything in the house they have lived in for 13 years.
"The boys were devastated. We're all wondering who, why, how, because we don't have any issues with anybody," she said.
Police said Miss Nelson's neighbour, Morgan Kahu, was alerted to the fire by a visitor who noticed smoke coming from the back of the house, which backs onto St Andrew's Middle School in Te Rapa.
Mr Kahu and his friend Duane Kukutai jumped the fence and tried to unravel Miss Nelson's hose to douse the flames, which were by this stage licking the roof. The heat pushed the men back and they had to fill buckets from a nearby tap.
At the same time two men driving past in separate cars saw what was happening, stopped, and immediately raced to the back of the house to help. Mr Kukutai's wife called 111.
The four men took 10 minutes to put the fire out using the buckets of water, but police said another three to five minutes and the fire would have taken hold.
Detective Constable Paul Slater of Hamilton CIB said that without the men's swift action the Nelsons could have lost their home.
"Had it happened earlier in the day and the occupants been in bed it could have had terrible consequences so we're very, very lucky how the situation played out."
Mr Slater said it appeared the arson was a "mindless act of damage" by someone who approached the house from the school, even though the section was fenced, and set fire to the items on the rear porch.
Miss Nelson, a family/whanau co-ordinator, said she was so grateful to her neighbour and the other men that she took over a "box of beers" to show her appreciation.
She hopes to find out who the other two men were.
She was also grateful to Hamilton Destiny Church members who helped clear the burned rubbish yesterday.
Miss Nelson said she had made a request for transfer to another Housing New Zealand house after the arson, a repeat of earlier requests after her children were exposed to a P lab next door and other incidents over the years, but she was told it was impossible.
Police want to speak to anyone who saw anything suspicious near the Bryant Rd house around 12.30pm on Saturday.
* Contact Mr Slater at Hamilton Central Police Station on 07 858 6200 or information can be left anonymously with Crimestoppers by phoning 0800 555 111.