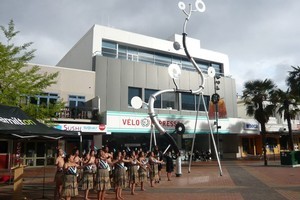 A greasy anti-climb paint could be slapped on Hamilton's newest sculpture in Garden Place to stop people from climbing it as plans for two more large pieces are expected to be unveiled in the city this year.
Auckland sculptor Neil Miller is negotiating with the city council on ways of stopping people climbing all over the $110,000 Matariki piece after the council received complaints about people playing on it.
The artwork was installed in November and is part of the Garden Place upgrade designed to draw people back into the city.
But its height - 12 metres - has led to concerns that it could pose a safety risk to people who ignore signs and climb it.
Miller hoped that as people started to appreciate the piece and the excitement died down the problem would go away, but he said he had another trick up his sleeve just in case.
The anti-climb paint is lanolin-based, making the surface greasy and slippery.
It is invisible when applied to a surface but rubs off on people who come in contact with it.
Miller said the paint was used on sculptures overseas and appeared to be successful in deterring climbers.
While it would a "yucky" thing to do, it would be better than barricading the sculpture off with a metal fence.
"You really don't want to fence things off.
"I think it would be really self-governing, that one, because with the sculpture, when you get high it is actually really scary.
"I put six months of work into that thing to make sure it wouldn't fall down and hurt anyone. I would feel terrible if someone climbed up it and hurt themselves."
When creating the piece, he installed a metal plate part way up to act as a visual barrier.
The final piece of the sculpture, the information panels explaining how it represents Garden Place's first use as a kumara garden and observatory, will be completed in the next week. Miller said he wanted to see how having informative signs about the piece would deter people, before going to more drastic measures.
He had been "knocked over" by the positive feedback from people and said it would be great if the city eventually had enough sculptures to form a sculpture trail.
The chairman of the council's operations and activity performance committee, Martin Gallagher, said he was underwhelmed by the "pipe piece" and had hoped safety concerns might have been considered by the delegated design panel.
Meanwhile, work on a $250,000 piece near the Gilchrist ponds at the Rotokauri Gateway is expected to be completed in October.
Two international and two New Zealand artists are shortlisted for the large-scale sculpture representing arrivals and innovation.
The Hamilton City Council is funding the project as part of its commitment to contribute to art a percentage of its contribution towards major developments, such as the $169 million Te Rapa Bypass project.