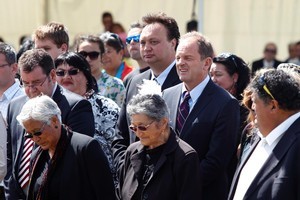 Labour Party leader David Shearer has acknowledged to Ratana morehu that the party needs to work harder on its relationship with the movement.
Mr Shearer was welcomed on to Ratana Marae this morning for the annual celebrations of the birthday of the movement's founder, Tahupotiki Wiremu Ratana.
Speaking at the celebrations, Mr Shearer invited Ratana followers to a meeting with him in Parliament.
He said although politics often changed, the relationship had stood the test of time.
"I know we have to work harder on that relationship. I acknowledge from our side that we have to do that."
He extended the invitation to meet in Parliament to talk about how the alliance could be strengthened.
"It can't just be done on one day a year on this paepae."
He told them that under his watch, the Labour Party would face some changes.
MPs welcomed
Earlier, Mr Shearer was welcomed onto the marae with other Labour MPs, including his deputy Grant Robertson, David Cunliffe and Maori MPs Parekura Horomia, Shane Jones, Rino Tirikatene and Louisa Wall.
Green Party coleader Metiria Turei and other Green MPs were also welcomed on as well as Mana Party leader Hone Harawira.
It is the first Ratana anniversary since Mr Harawira set up his new party last year.
Prime Minister John Key will arrive this afternoon and walk on with the Maori Party, as Government partners.