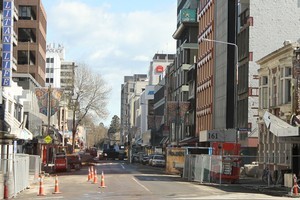 Thousands of older Christchurch residents are doomed to rent for life, says Hugh Pavletich, a city resident and Demographia's co-author.
"The quake-damaged homes in the red zone have an average value of $295,000, based on the 2007 rateable value. How can these people afford to buy new houses on the fringes for about $450,000 when the median household income in the east is only about $45,000? The political authorities both locally and nationally have failed since September 2010 - some 17 months ago - to address this extremely serious issue," he said.
The Government's objective all along should have been to allow new housing on the city's fringes built for about $200,000 initially.
"Christchurch is a low-income city. It must have affordable housing to survive. There is a desperate need for land release in this disaster-stricken city," Mr Pavletich said.
"We can't get a recovery under way here while land prices are so high. If you're 60 and your mortgage eligibility has had it and you've got very little insurance, what are you going to do?" he asked.
Even those residents fortunate enough to get higher insurance payouts are suffering because the city is not offering a good supply of houses for sale, he said.
Christchurch's unaffordability has also worsened in the past year, despite thousands leaving.
Overall, median house prices are $354,600 yet median household incomes in the city are $55,900, meaning an affordability grading of 6 - severely unaffordable.
Christchurch earthquake events will soon lead to profound changes in urban governance and planning in New Zealand, Mr Pavletich believes, predicting councils will be forced to free up more rural land so cities such as Christchurch can cope.
The Real Estate Institute this month found Christchurch house sales particularly strong.
The Canterbury/Westland region holds the national record for the shortest length of time to sell a house, averaging just 29 days last month and down two days from November. The region also recorded its strongest December sales volume since 2007.