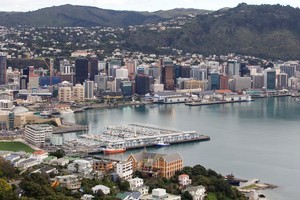 Greater Wellington Regional Council chair, former MP and Wellington mayor, Fran Wilde, says a Herald on Sunday columnist needs to rethink her view of local government amalgamation.
Deborah Coddington's normally rational approach was abandoned in last week's column on possible local government changes in the Wellington region.
The "secret" document she mentioned is a highly public paper that has been circulating widely for the past few months. It was produced by a group of Wellington regional councillors to promote a public debate on the issue in our region.
If Coddington had read the paper, she would know it advocates the critical importance of preserving local decision-making on community issues. She uses Mayor Adrienne Staples as an admirable example of leadership in a small population council. Under the model suggested in the paper, there would be a vital role for this type of leadership, unlike the Auckland Super City, which abolished all territorial authorities and thus did away with their institutional memory and local links.
Coddington also used the terrible balloon accident in Carterton as an example of the importance of local leadership. Too right. Mayor Ron Mark was great (I have already told him so) and there will always be a need for local leaders with knowledge and empathy.
But there is also an urgent need for scale and economies of scope on big issues such as infrastructure, planning, regional networks and advocacy with central government.
The irony of Coddington's claim that Wairarapa will become "an ATM machine for Wellington infrastructure" is that the reverse fear is held by some in Wellington City, who see their rates being dissipated around the rest of the region.
These two groups ignore the fact that the Wellington region has been highly integrated since before European settlement. Ask local iwi about their history and look at the details of the "head of the fish of Maui".
Carterton has fewer than 8000 people and South Wairarapa fewer than 10,000, but I'm told 30-40 per cent of rates demands from the latter go to Wellington City addresses.
Wellingtonians who own property in South Wairarapa, with visitors from Wellington City (Wairarapa's biggest tourist market) and the region's wine buyers, all contribute to Wairarapa's economy.
In local government, the regional council provides staff and expertise across the whole region, which also benefits Wairarapa residents and landowners.
Even when there is collaboration among our councils, it is increasingly difficult to deliver what people expect. More shared services across the region are seen by some as the answer, but so far have not delivered much substance despite years of talk. In addition, the Wellington region is challenged by central government downsizing and by the magnet of Auckland, and bigger centres further afield, drawing private sector business.
With nine councils serving a regional population of just under half a million, we need a smarter way to organise ourselves, so we can make effective decisions as close as possible to where those decisions count, be it local or regional.
Disclosure of interest: I am a Wairarapa ratepayer and have voted for Adrienne Staples, who is a jolly good local mayor.