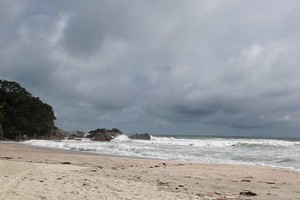 A surfer has spoken of his desperate efforts to save Porirua man Albert Alapati before he was swept out to sea at Titahi Bay on Saturday afternoon
The search for the 24-year-old will resume this morning, after Coastguard, Surf Life Saving, Police and LandSAR scoured the coastline on and off the water until late yesterday.
The Police National Dive Squad will join the search if weather conditions improve.
The man went missing at 4pm Saturday, after he and a group of four friends were caught in a rip while swimming at the beach, north of Wellington. While the other four were all rescued, Mr Alapati remains missing.
Titahi Bay surfer Jason Wilson-Haenga told Fairfax Media he was surfing nearby when he saw the group caught in the rip. The 37-year-old paddled over and gave his board to a girl, who was holding onto Mr Alapati by his shorts.
He got the girl onto the board and grabbed hold of Mr Alapati, "hugging him like you would a baby".
"Another surfer came over, and just as that happened another big wave hit us and ripped the guy out of my hands. When I came back to the surface, he had disappeared," Mr Wilson-Haenga said.
"I was hugging on to him front on, so I could see his face. When you look at someone like that when they're just about gone ... if I had been on dry land I probably could have saved him," he said.
"I'm just so sad I couldn't bring that boy back."
Friends of the missing former Porirua head boy have posted prayers he will by found safe and well on Facebook.
"Prayers and thoughts with the Alapati Fambino," Luisa Tapusoa wrote yesterday. "Pray that you (Albert) be brought back home safely. Been at your house ever since the news took place keeping your mother company. 1 love brash [sic].&quote;
The incident was one of four presumed drowning over the weekend.
- APNZ