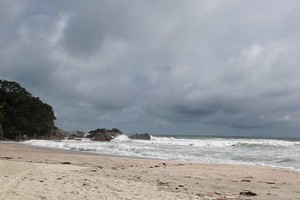 Two men have died, two are missing and one is in hospital in a serious condition after incidents Water Safety New Zealand says were all preventable.
In Wanganui today rescuers continued to search for a man swept away while swimming in Whanganui River yesterday.
The 34-year-old local man was with a group of canoeists paddling on the flooded river when he and another member of the group attempted to swim across it.
Water Safety New Zealand chief executive Matt Claridge said the power of river currents meant they could be a risky environment to swim.
"They can really do a lot of damage. You need to be comfortable and familiar in that kind of environment before you attempt any activities that involve skill."
A search was carried out yesterday by local boats, tour boats, a DOC boat and a helicopter which
scoured an 87km stretch of the river between Whakahoro and Pipiriki.
The search resumed again this morning with four boats and a Fly My Sky helicopter scanning the river while 12 people, including police and volunteers, checked the riverbanks.
Police said the river remained in flood and the water was very murky. But water levels were dropping.
The man was wearing only shorts when he was swept away.
Meanwhile, a Porirua man is missing, presumed drowned, in Titahi Bay, near Wellington.
Police central communications spokesman Ian Harris said Mana Coastguard, Titahi Bay Surf Lifesaving Club and a number of volunteers resumed combing the area for signs of the man at 8am this morning.
"People have survived a long time in these waters before so we're holding out hope," Mr Harris said.
But as time goes on, hopes of finding the man alive are waning, he said.
"We're really hoping we find him soon."
The man went missing at 4pm yesterday afternoon, after he and a group of four friends were caught in a rip while swimming.
The other four were rescued and two of them were taken to hospital for treatment.
During the Taupo Epic open water swim yesterday a male competitor in his 50s drowned after suffering a heart attack.
Mr Claridge said the incident should be reviewed by Water Safety New Zealand to determine what could be done to prevent similar occurrences in future.
There have been close to half a dozen fatalities in open water swimming event in the past five years, he said.
"It's not necessarily that they're poorly run, but it is a popular sport that is becoming more popular.
"We need to make sure there are accurate precautions in place to prevent this kind of thing."
In Tauranga yesterday a 51-year-old Aucklander drowned and a 49-year-old Tauranga man was taken to hospital after the men got into difficulty while fishing in Welcome Bay.
The 49-year-old was in Tauranga hospital in serious condition.
There have been 10 drownings so far this year. This time last year there had been 11.
"It's not a great start to the year," said Mr Claridge.
"All of these were recreational drownings and recreational drownings are preventable - it comes down to the decisions of the individuals."
Drowning rates in New Zealand are more than double that of Australia.
Mr Claridge said Maori were disproportionately represented in drowning statistics.
Older Maori males made up a high proportion of these drownings, which often occurred while diving for kaimoana, he said.
Adolescent Maori males also had a high drowning rate, which he said could be attributed to "recklessness and poor decision making".
Mr Claridge said individuals needed to match their ability with the conditions. "If in doubt, stay out".
- APNZ