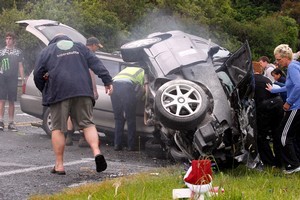 A devastated mother has told mourners at her daughter's funeral not to take risks on the roads and to slow down to stay alive.
"Through this tragedy, I want to say, don't take the risk," said Mary Anne Dawson.
"If you want to get somewhere sooner, is it worth it? It's not."
Ms Dawson's 18-year-old daughter, Stephanie Ann Joy Fox, and her stepfather, Lance Rielly, 39, were among the 18 people who died during the holiday break.
They were killed on December 30 after Mr Rielly lost control of his car as he sped along a passing lane and smashed into an oncoming car on State Highway 1 north of Paraparaumu.
Yesterday, as police released full details of the causes of the 14 crashes, Ms Dawson's plea was echoed by national road policing manager Superintendent Paula Rose, who said everyone was in charge of their own driving behaviour.
Figures given to the Weekend Herald reveal 15 of the 18 people killed died on the open road, eight in head-on crashes.
The breakdown of the fatal accidents - a significant increase on 12 last year- has reignited debate about how to reduce the number of road smashes.
It's believed speed and alcohol contributed to seven deaths, and two occurred probably because drivers were travelling too fast for the conditions.
Six of the deaths were in single-vehicle crashes in which a driver lost control of the vehicle or ran off the road.
At the funeral yesterday and clutching Stephanie's favourite soft toy - Baby Bop, from the children's TV show Barney - Ms Dawson remembered her only daughter as someone who had many friends and loved life.
Stephanie's father had died when she was young and Ms Dawson said she was at peace knowing they were now together.
At the request of her family, many of the mourners brought yellow and purple flowers to place on her casket. A haka was performed as the coffin was taken out of the church and doves were released.
Despite the high holiday crash figure, the road toll for last year was the lowest in decades, but police and road safety commentators say more can be done.
Ms Rose said: "If there was ever a period of time when you can see at a glance that we can do something as individuals to save our own lives or the lives of others, then this it."
While eight deaths occurred in head-on crashes, it was what led to each vehicle crossing the centre line that was important.
"As a result of other factors, people may well have crossed the centre line - whether it's driver distraction, speed, alcohol, impairment, poor judgment or a combination of these things.
"The consequences of their activity is crossing the centre line and the collision."
Ms Rose said allegations of racing had been made in some of the Christmas-New Year cases. In another, a witness saw a driver collapse at the wheel.
Several crashes could result in charges being laid.
In one "head-on" case, the passenger side of one vehicle hit the passenger side of another.
"That tells you how far both of them weren't on their particular side of the road, but does it tell you whose fault it was? No," Ms Rose said.
AA spokesman Simon Lambourne said that to effectively address the road toll, the country required a safe system.
"That means safer drivers, in safer vehicles, on safer roads driving at safer speeds."
Work needed to be done in all four areas to reduce deaths and injury.
Clive Matthew-Wilson, editor of the dogandlemon.com car review website, urged the government to put setting up wire-rope barriers ahead of building new roads.
Ms Rose said she would like to see wire-rope barriers dividing more highways, but it would be expensive.
"The thing you can change today is how you choose to drive your car.
"It might take 10, 20 or 30 years to get big-ticket changes, but right now, right this minute, you can change your driving behaviour."