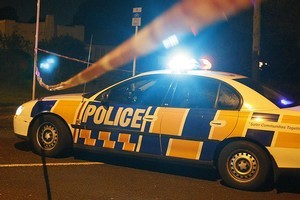 A young man stabbed and beaten to within an inch of his life was targeted for wearing a red top, police say.
The 24-year-old victim of the New Year's Day attack in Napier has been brought out of an induced coma and has tried to speak with family at his bedside.
He was stabbed in the abdomen and suffered significant head trauma and broken ribs in the attack.
"He's awake ... he's been trying to talk," said his 22-year-old mate, who was also set upon in the random attack by a group of men early on January 1.
The victim's aunt, Sharon Brown, said the family were relieved he had come out of the coma and was trying to talk.
"They are very distraught but they are just thankful they still have him - he is still alive."
The man's condition was still described as serious.
She described her nephew as "a very cruisy young man".
"He is a humble young man who keeps out of trouble - just a good kid."
Inquiry head, Acting Detective Senior Sergeant Emmet Lynch said a member of the public who had been in the area during the 2am attack had come forward said the group responsible had been using gang language linked to Black Power.
Mr Lynch said neither of the victims had any gang associations and had not provoked the offenders in any way.
One of the pair had however been wearing a red top - the colours of the rival Mongrel Mob gang - and it was believed that sparked the attack.
The knife police believed was used in the stabbing was found by a resident a few doors from where the attack took place. It was discovered under a parked car at the front of the property and has been sent for forensic testing.
Mr Lynch described it as a domestic carving knife - with a 400mm long blade.
"Clearly not the sort of knife someone would be walking around with," Mr Lynch said.
He said it may have been stolen from a house or garage earlier.
Police had received good information from members of the public and were following promising leads, he said.
The victim's friend, who asked not to be identified, said that what had been a New Year's Eve night in town "on a bit of a tiki tour to see what was happening" turned into a violent nightmare.
He said he and his mate had walked into town and were returning home.
"We saw a group of guys by the corner. They said a few words, but I didn't hear what they said. Then they started yelling and followed us. One came from the side at me and I managed to get him to the ground but then I got hit."
In the violent confusion he became separated from his mate and could not find him. He thought he must have escaped and gone home, so he did as well.
The next morning he called to see if he was all right but discovered he hadn't turned up. "Then I started to really worry."
He went back to the scene, saw police there, and confirmed what had happened.
For more articles from this region, go to Hawkes Bay Today