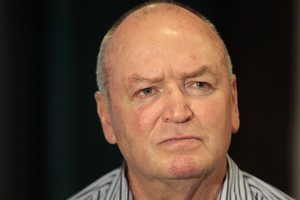 Sir Graham Henry has walked a fine line between glory and failure to reach the pinnacle of rugby - and to today receive one of the country's highest honours.
Sir Graham is being made a Knight Companion of the New Zealand Order of Merit, a recognition of his service to the national sport.
The New Year Honour comes after his triumph at the Rugby World Cup in October, a victory won by the narrowest of margins.
"We went through some shit, didn't we? Richie [McCaw] is playing on one leg, Daniel [Carter] had broken his abductor muscle, Colin Slade has done his abductor, Aaron Cruden crocked his knee.
"And we have the whitebaiter [Stephen Donald] kicking the goals.
"There was a fair bit of tension in that last game," said Sir Graham this week, visibly relaxed and full of jovial understatement two months after the 8-7 nail-biter over France.
Sir Graham said he was no "looker-backer" - no sitting around reflecting on accomplishments.
But he admitted that at times his "gut" remembered the lofty goals he had set as a young man in 1970, and he could appreciate how far he had come.
The knighthood was humbling, a little bit embarrassing, and anyway everyone would still just call him Ted - or "the old prick", he said.
"They will just call me whatever they want to call me. Things won't change."
His former All Black assistant coach Wayne Smith agreed: "It's always Ted. Having worked with him for the last eight years, you know what he's put into this and his genuine patriotism of wanting to do it for the country.
"He would be one of the hardest-working coaches I've ever worked with. It's a well-deserved honour," Smith said.
"But I will just call him Ted. It's a recognition, isn't it? It doesn't mean you change into a different person."
Former All Black Grant Fox, who played for Sir Graham in Auckland, said his former coach deserved the recognition. "He's given a lifetime service to rugby. For me, it's not about winning the World Cup - that's just a culmination of decades of service to the game."
Sir Graham said the honour - which came four years after bitter defeat at the previous World Cup - had been earned collectively by the All Black players, staff, management and families.
"I will just have to carry that title for this group of people - though my mother is very pleased. She loves the Queen so she's very proud."
Sir Graham's pursuit of rugby's highest echelons began more than 40 years ago as a teacher, when he set a series of goals to one day coach the All Blacks.
"I was a young kid, really, coaching at a high school. But I had a passion for it and I have always worked hard. I have always tried to make sure the goals you set come true."
The journey took several turns: he failed to get the coaching job for Auckland in 1987 but got there in 1992.
He missed out on the All Blacks job in 1998 but returned in 2003, after a tough time in Wales.
In each case, the delays put him among the right people to go further; without them he would just be at a school somewhere, he said.
"I could have been coaching North Harbour - heaven forbid - and I would have died," he joked.
"So you are just fortunate to be in the right place in the right time with people who are motivated to do something special.
"The dice rolled well."
Sir Graham said his goal now, having attained the ultimate prize, was to "die gracefully".
"I'm getting close to late middle age now," the 65-year-old said, his tongue in cheek.
KNZM
For services to rugby: Sir Graham Henry.