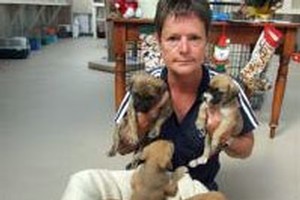 Dumping a litter of nine 5-week-old puppies in a rubbish bin beside Lake Dunstan in Central Otago on a scorching hot day has been called an act of "unbelievable cruelty".
The puppies were left to die by "starvation, dehydration or cooking in the heat", SPCA inspector Helen Saunders says.
The puppies, dumped in a bin near a boat ramp at the Clyde end of the lake on December 23, were "very lucky" to be discovered a short time later and they were taken to Central Vets in Alexandra, then passed on to the SPCA in Alexandra, Mrs Saunders said.
"They were all in a relatively good condition when found, but it was very lucky they were found within a short space of time, because they wouldn't have survived very long.
"If you don't want a litter of puppies, there are other ways of getting rid of them, rather than leaving them to starve to death, to dehydrate or to cook in the heat."
The litter comprises five males and four females and the puppies are either Staffordshire bull terrier or mastiff crosses - "probably more likely to be a mastiff, because of the size of the litter".
"Someone must know if their neighbour's dog had nine puppies and now doesn't have any, so we're hoping to get a lead," Mrs Saunders said.
Puppies generally were not weaned until eight weeks, so no attempt would be made to find homes for them until then.
Although they were "very cute", it would be hard to place nine puppies at once in Central Otago, so the puppies might end up at the SPCA's Dunedin base.
The cost to the SPCA of each puppy it "rehomed" was $535, so this litter would cost the organisation $4815, she said.
That figure includes the cost of care, feeding, worming, vet care, vaccination, desexing and microchipping.
The SPCA would like to hear from anyone with information on the puppies. They can phone on 0800 682-467 to provide information anonymously.