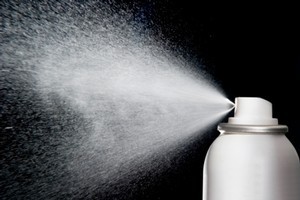 A 16-year-old is in Waikato Hospital after an explosion in her Mount Maunganui home Sunday morning.
Most of the windows in the Paterson St home were blown out.
Tauranga senior station officer Len Sabin said a candle on a table fell over and caused a small fire in the house at 1.30am.
The fire involved an aerosol can and caused an explosion, blowing out a number of windows, he said.
Mr Sabin said the explosion extinguished the fire but it's surprising how much power can be generated. ``When you have a rapid expansion of gas, it creates a pressure wave and in an enclosed area can pack quite a punch. It can knock people over. The warning on the aerosol cans `to keep away from heat sources' is there for a very good reason.''
The St John Ambulance and police attended the Christmas Day incident. A 16-year-old female was taken privately to Tauranga Hospital before the ambulance arrived and is now in a stable condition.
When the Bay of Plenty Times visited the property yesterday, there was no-one at home.
Ten windows were boarded up and two shattered aluminium window frames were on the ground outside, along with splinters of grass.
- APNZ