Herald reporters have been out and about testing New Zealand's ultimate recreational cycling experience for a five-part summer series beginning today.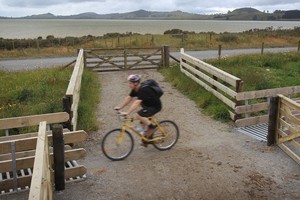 It has taken longer than hoped to crank into top gear, but Nga Haerenga - the New Zealand Cycle Trail - is open for business over a wide palate of Kiwi landscapes this summer.
Almost three years since the trail was conceived by Prime Minister John Key and the Green Party, three of its "great rides" have been completed.
And sections of 12 others are ready for tourists and locals to pedal off their Christmas excesses.
The first of a series of routes on back-country roads, linking some largely off-road trail rides with towns like Taumarunui and New Plymouth, have also been marked out to entice visitors deeper into provincial New Zealand, such as through Whangamomona on the "Forgotten World Highway".
Nga Haerenga is said to mean "the journeys" in both the physical and spiritual senses, which is what promoters want to offer those keen to get away from it all and see some of the country's most spectacular scenery from two wheels.
Several rides are within relatively easy reach of the large populations of Auckland and Hamilton, so the Herald decided to beat the hordes and send reporters out on bikes for some test rides, which it will detail each day from tomorrow until Friday.
The Upper North Island is well-represented in the mosaic of rides expected by early 2013 to provide a national network stretching more than 2300km, even though it will not be quite the Cape Reinga-to-Bluff trail first envisaged.
Although detailed feasibility studies and planning meant slower than expected starts for politicians hoping to have 2000km of rides ready for the Rugby World Cup, momentum has built in recent months.
By the end of November, 538.5km of new tracks had been added to 1015km of existing trails, amounting to 1553km - or 66 per cent - of the proposed network.
Once completed, the trail will have soaked up more than $50 million of Government spending and about $30 million of "co-investment" of council and community trust funds along the way.
Track construction has so far employed 658 people, but the Government says the real value will be in enduring employment creation in support businesses such as accommodation and cycle tour providers.
NZ Cycle Trail programme manager John Dunn of the Ministry of Economic Development says regions blessed with some of the country's best, but not necessarily most accessible, scenery have received substantial financial help to build tracks, of up to $4 million each.
Not only were they getting a tourism "product" virtually debt-free, but the ministry was holding commercial workshops every three months to help communities market and operate their tracks.
Northland's Twin Coast Cycle Trail - Pou Herenga Tai - is more than 30 per cent complete and will offer priceless scenic, cultural and recreational cycling experiences once it links the Bay of Islands to equally historic Hokianga Harbour trails by this time next year.
Closest to Auckland is the Hauraki Rail Trail, being built along not one, but two disused rail corridors, from Thames to Paeroa and to Waihi, with a spur track to the spa town of Te Aroha also under construction.
It has a 7km section open through the charming Karangahake Gorge, and its full 108km of tracks should be available by April.
Already completed is a 102km string of five Waikato River trails stretching from Lake Karapiro to Atiamuri, of which the northern and southern sections offer easy riding while the rest will challenge intermediate to advanced mountain bikers.
Less developed is the 83km Pureora Timber Trail in Waitomo District, which is 70 per cent completed although only about 8km is available to riders, near the Department of Conservation information centre of Barryville.
Veteran cycling writer Jonathan Kennett, an NZ Cycle Trail project manager, believes that once fully open by April it could become the country's "greatest mountain bike ride" because of its wealth of natural and historical features.
He is also excited about the Great Lake ride to the western shore of Taupo, and the largely completed Ruapehu-Whanganui trails.
Although a potentially intriguing ride from Rotorua's geothermal wonderland will be off-limits to riders until February, mountain-bikers already have plenty of pedalling opportunities on the Motu Trails between Opotiki and Matawai, inland from Gisborne.
More leisurely pedalling is available on a largely-completed network of Hawkes Bay trail, and in the South Island there are new opportunities for cyclists of all skill levels around Nelson, Queenstown and on the West Coast.
For more details of available and planned rides, visit www.nzcycletrail.com
ON THE TRAIL
Tomorrow: Northland's Twin Coast Trail - Pou Herenga Tai
Wednesday: Hauraki Rail Trail (Karangahake Gorge section)
Thursday: Waikato River Trails
Friday: Mangapurua and Ohakune's Old Coach Rd