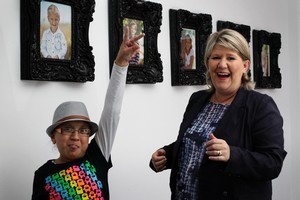 Having fun and enjoying time with friends is a luxury if you're a child living with a serious illness.
For the children's research charity Cure Kids, giving hope and happiness to youngsters with life-threatening illnesses is its main aim.
The charity - which has invested $26 million in medical research into childhood illnesses over the years - is one of 12 charities to receive a $10,000 grant from Auckland Airport this Christmas.
Cure Kids is the last charity to be profiled in a Herald series on the grant recipients. The airport raises the $120,000 for its Twelve Days of Christmas donations from spare change collected from travellers.
Cure Kids' money will go towards giving up to 15 children and their parents a weekend trip to Queenstown, in the charity's annual Ticket to Hope fun getaway holiday.
Chief executive Vicki Lee said the trip would enable seriously ill children, as well as their parents, to escape the reality of their illness.
"We like to think of research as hope. We talk about hope from research and we talk about prolonged life and a happy life - a life of hope.
"Ticket to Hope is about letting them feel normal for a weekend."
Tim Slyfield went to last year's trip to Queenstown with 5-year-old son James, who has recently finished chemotherapy for leukaemia.
Mr Slyfield said the trip was life changing for the both of them.
"It was a chance for me as a dad to have fun, extend boundaries and share moments with my son that couldn't be reproduced."
The families will tour Queenstown, see snow on surrounding mountains and visit a chocolate factory and jeweller Michael Hill's golf course.
Auckland Airport's general manager of corporate affairs, Charles Spillane, said the company felt privileged to be able to contribute to a cause that gave hope to youngsters living with serious illnesses.