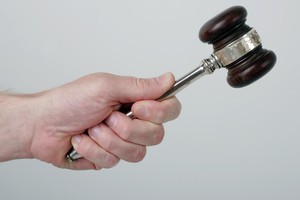 File photo / NZ Herald
A man has been jailed for running over two teenagers who laughed because his car wouldn't start.
Zane Tani Courtney, 21, appeared in Tauranga District Court yesterday on two counts of failing to stop and one of dangerous driving.
He was sentenced to 18 months' imprisonment.
The court was told that when Courtney was unable to get his car started in March, people across the road began to heckle him.
Defence counsel Peter Atwood said a dispute then erupted before Courtney took off, did a U-turn and came back, hitting 19-year-old Taryn Hunter and her boyfriend's brother.
Judge Robert Wolff said Courtney had not stopped when he should have and sped through three sets of red lights before being caught by off-duty police officers at a petrol station.
Miss Hunter and her boyfriend's brother, who was not named, were taken to Tauranga Hospital.
Ms Hunter told the Bay of Plenty Times she had been making jibes at Courtney because he was with another man inside the car while making a woman push from behind.
"Who wouldn't laugh at two men sitting in a little car and making their missus or a woman push them?"
She was struck, hit the windscreen of the car and was then thrown off. She needed surgery to her knee and also suffered significant emotional harm, the court heard.
Miss Hunter still had crutches with her in court yesterday.
Judge Wolff said Miss Hunter had suffered significant harm that would normally require some form of reparation, particularly as she had not been able to work since, but Courtney could not afford to pay.
for more articles from this region, go to BAY OF PLENTY TIMES