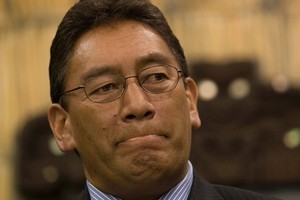 Hone Harawira. Photo / Mark Mitchell
The 'hypothetical' relationship between the Greens and National was put to the test yesterday as John Key sounded out Metiria Turei and Russel Norman over the possibility of the Greens abstaining on confidence and supply - effectively supporting the government. While John Hartevelt reports in National courting Greens - tentatively that John Key remains fairly positive and that both sides were carefully choosing their words, Amelia Romanos and Claire Trevett paint any possible agreement far more negatively with Turei only saying that they have not yet shut the door on the possibility - see: Greens see red over National call to abstain. No Right Turn says the chance of such an agreement is actually "zero", pointing out that the wider Green party would have to approve the deal - see: Good luck with that.
While the Greens leadership are keeping the door open for National, it appears the policy concessions they require over asset sales, welfare reform and deep sea drilling are a bridge too far for National in 2011.
Neither party needs an agreement at this stage and instead they will try and progress the limited memorandum of understanding on policy they had in the last Parliament.
Hone Harawira has picked up quite a bit of support for modernising the oath of allegiance. Both TVNZ and TV3 reported on his swearing in as if he was a naughty child needing to "behave". Despite being the target of ridicule and harsh criticism for his stand in the past, there is no doubt that his willingness to confront and push the rules has actually brought the issue to the fore. Not only have the Greens and new Labour leader David Shearer voiced their support, but unlikely Harawira allies John Pagani and David Farrar have joined the call for change.
Pressure is mounting on the Government and Anne Tolley over her denial to Parliament that a suspended teacher had been employed by the Ministry of Education in Northland. Gordon Campbell in his article On taking the fall for Anne Tolley says that she owes Radio New Zealand, who initially reported the story, and Parliament an apology for her denials and attacks over the issue. Radio New Zealand itself reports that Labour is putting pressure on John Key to investigate further and that Tolley may be forced to apologise (listen here). No doubt her performance over this was a factor in her losing the education portfolio.
Other good articles today include Chris Trotter comparing David Shearer's task with the one that faced Tony Blair with the British Labour Party. He notes some of the similarities but also important differences, particularly the decline in popularity for neo-liberal economic policies and the much weakened state of the New Zealand Labour Party, calling it little more than a group of "MP fan clubs" - see: Tony Blair No Guide For Shearer's Labour. Trotter notes that the Labour Party now only has a membership of about 6000.
The Timaru Herald editorial addresses a rumour that the Ministry of Education is considering the right of local Boards of Trustees to appoint school principals, which would be a major and probably final blow to Tomorrow's Schools - see: Principle is wrong
Ben Heather reports that Gerry Brownlie has fired a warning shot to some Christchurch councillors over what he views as obstructive behaviour and refuses to rule out sackings - see: Earthquake Minister scolds council http://bit.ly/tdpuvu. Stephen Franks wonders if the entire Council is safe or might suffer the same fate as Environment Canterbury -see: Is Christchurch Council safe?
Finally Stuart McLennan, an ex-Complaints Assessor with the Health and Disability Commissioner, has a good opinion piece in the ODT - see: Independence of commissioner paramount highlighting the important role the office has played in the past, but questioning recent developments that might render the HDC less of a watchdog and more of a lapdog of the medical profession.