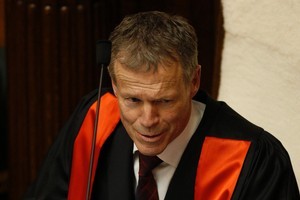 Lockwood Smith was unanimously re-elected as Parliament's Speaker by MPs this morning.
In a sign of the respect in which he is held, Dr Smith was nominated for the role by Leader of the House Gerry Brownlee and seconded by Labour's Shadow Leader of the House Trevor Mallard.
Dr Smith put on a good show of abiding by the tradition of showing reluctance in being dragged to the Chair by the Government whips - a relic of the days when the Speaker faced the wrath of the Monarch.
However, once back in his seat, Dr Smith said he was honoured to take on the job again.
He said it was not always easy telling senior MPs to be quiet when they were delivering speeches in full flight.
However, he said in 1642 Charles I had forced his way into Parliament and demanding the Speaker help him find some senior MPs he wanted to arrest.
The Speaker "sent him packing" with the admonishment that he was the servant of Parliament - not of the King.
"To me that's the key. As Speaker I am the servant of this House. I am Parliament's person,. I won't always get things right but I will do my utmost to be impartial and fair."
He said he was committed to strengthening the effectiveness of Parliament.
Prime Minister John Key congratulated Dr Smith on the appointment and said he had shown he was a person of great impartiality and had restored respect in the House.
He likened Dr Smith's role to that of a rugby referee, allowing free flow of the 'sport.'
The Speaker's election also gave Labour leader David Shearer his first chance to speak as the party's leader. In congratulating Dr Smith, he also put in a joking request for advice on how best to handle the Shadow Leader of the House: one Trevor Mallard.
Dr Smith was spared his first taste of Winston Peters because NZ First's response was delivered by MP Barbara Stewart instead while Mr Peters watched on. There was some quiet laughter when Ms Stewart ended by saying that it was clear Dr Smith "honours and respects Parliament, and we will be doing the same."
However, it was Act's sole MP John Banks who got the most laughs, beginning by standing to congratulate Dr Smith "on behalf of the Act caucus."
A long-standing acquaintance of Dr Smith from his days as a National MP, he said he had oberved Dr Smith's performance "while in exile" and was impressed. He was also thankful for the warm welcome Dr Smith had given him upon his return.
"It was only surpassed by a security guard who saw me and said 'it's so good to see you again, Winston."
Green coleader Metiria Turei said although she and Dr Smith had not always agreed, they had also worked well together in some areas and she hoped that would continue as the Green Party sought to 'modernise' Parliament.
Mana leader Hone Harawira said he backed Ms Turei's message and also hoped to sit down with Dr Smith to discuss changing Parliament's oath.
Maori Party co-leader Pita Sharples thanked Dr Smith for ensuring translation services for te Reo Maori were provided and United Future leader Peter Dunne said Dr Smith had shown he was not to be trifled with.
Dr Smith will be sworn in by Governor General Sir Jerry Mateparae this afternoon before the State Opening of Parliament tomorrow.