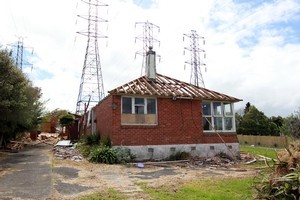 Rival gangs fought over a property where police are investigating the discovery of a headless skeleton.
Locals are relieved the house on Barrack Rd, Mt Wellington, has now been demolished. They found out about the grisly discovery through a Herald on Sunday article last month.
Andrew Davy, the owner of Alliance Demolition, whose workers found the body, said the bones were in a heap as if tipped from a container, among what appeared to be food waste. Fragments of clothing, including jeans with an 85cm waist and a pair of size eight Chuck Taylor shoes, were clinging to the bones.
Police have narrowed the possible indentities to a small number and are waiting on an anthropology report.
Neighbours said the abandoned house was initially frequented by "homeless people and drunks" but a much shadier crowd had moved in earlier this year.
"We thought they were cooking P," a neighbour said. "There was a lot of hustle and bustle through the night.
"They were scary. One time there was loud arguing very early in the morning, before the sun came up. Two people were screaming 'f*** you, f*** you' at the top of their lungs."
Another neighbour said he had once seen several patched gang members pull into the property on motorcycles.