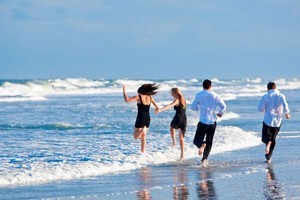 New Zealanders are often thought of as being healthy, active people who live an outdoorsy lifestyle - but the reality is far from that, a survey has found.
A third of us exercise less than an hour a week and we are concerned about our snacking, drinking and health.
The AIA study of 15 Asia Pacific nations, released by life insurance group AIA New Zealand, asked more than 10,200 people what they thought of their lifestyle and how it could be improved.
Of the 403 New Zealanders who responded to the survey, 91 per cent said they could do more to improve their health. And 72 per cent agreed that they wanted to lose weight.
Director of AUT University's Centre for Physical Activity and Nutrition, Dr Grant Schofield, said although most people say they want to get healthier, that was often much harder to achieve in real life.
"It's not that people don't care about their health, it's just that there are quite a few barriers in the way when trying to stay active, stay healthy and staying at a healthy weight."
He said the price of protein-rich food and not having the time to exercise were two of the biggest barriers stopping New Zealanders from becoming the healthy people that they wanted to be.
"It's not necessarily the price of healthy food, it's protein that's really expensive ... as is dairy and lean meats.
"On the other hand, if you take a city like Auckland, getting around by anything other than a car is fairly difficult. So people don't get accidental exercise, like walking, which seems to be the easiest way for people to stay in shape."
The top three concerns across the 15 nations were "not getting enough sleep", "not exercising enough" and "too much weight" - especially in New Zealand, Australia and Taiwan.
Kiwis said they ideally wanted 8.4 hours of sleep each night, but reported getting only 6.8 hours.
Dr Schofield said anything between 7 and 8 hours a night was a healthy amount, but even that was often unobtainable.
And New Zealanders were also concerned that they were snacking, smoking and drinking alcohol too much to be healthy.
Dr Schofield said removing the temptation altogether was the key to becoming healthier.
"It's pretty easy to find yourself in front of high calorie food and the reality is humans just don't have the willpower not to eat it ... so go shopping online so you're not tempted by bad foods at the supermarket or make sure you're not hungry before you go food shopping."
To improve fitness, the best way was to build it into your lifestyle - such as using one car per family so you're forced to walk sometimes or getting off the bus two stops early.