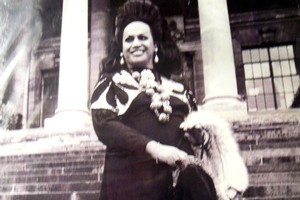 Legendary drag queen Carmen has died.
The 75-year-old had kidney failure after months of poor health, and has passed away in Sydney's St Vincent Hospital.
Her long list of achievements include belly dancing with a snake in Kings Cross to running for Mayor of Wellington, with the backing of Sir Bob Jones, and the slogan, "Get in Behind''.
Carmen was one of 13 children of a Taumarunui farming family, born as Trevor Rupe.
Her cross-dressing career took off when she arrived in Sydney's Kings Cross in the late 1950s - Australia's first ever Maori drag performer.
She joined the famous Les Girls revue and spent several spells in prison, the result of police hatred of openly gay people.
Carmen came home in 1968 to open a brothel and a strip club in Wellington.
She lived out her final years in Sydney.