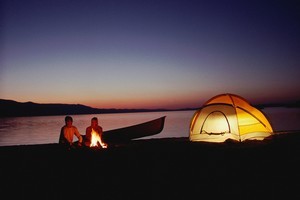 The number of young children staying in DoC huts and campgrounds has quadrupled in two years as New Zealand families choose "value" destinations for their holidays.
An unscientific poll on nzherald.co.nz of more than 2000 readers found people planning to go overseas were outnumbered three to one by those who said they'd be staying in New Zealand.
Many said they would either stay home, go to their bach or work.
Flight Centre general manager of retail Maree Hansen said that those who were travelling overseas for the holidays had been booking cheaper flights.
"Thailand and South East Asia are popular destinations over this period because of the great value flights that have been on sale recently," Ms Hansen said.
Fiji and the Gold Coast also remained popular, she said.
House of Travel retail director Brent Thomas said domestic travel had always been the most common for Kiwis' summer holidays, but international travel was also picking up again after a low in 2009.
More families were now choosing destinations with better value, such as Thailand, Singapore, Malaysia and Bali, rather than Australia, he said.
"Your money just goes a lot further," Mr Thomas said.
Families could stay in four-star accommodation and eat great meals while keeping to a reasonable budget, he said.
"They're looking at different destinations and it comes back to that value," Mr Thomas said.
Family holidays at New Zealand parks managed by the Department of Conservation appear to have jumped in popularity.
Department figures show that bed nights for New Zealand children 4 years old or younger quadrupled in the past two years.
Bed nights for 5- to 15-year-olds more than doubled.
"There is much demand for camping experiences in the campgrounds," said a spokeswoman.
Visits to the department's facilities grew three times more quickly among New Zealanders than international visitors.
A survey commissioned by budgeting information service Sorted found that New Zealanders were planning to keep a lid on their spending this year.
Almost 70 per cent of respondents said they intended to spend the same or less on presents, holidays, travel, food and alcohol as they did last Christmas, and only a quarter indicated they intended to increase their festive spending.
HOLIDAY CHOICE
How are you planning to spend your Christmas/New Year break? Results from an nzherald.co.nz poll
- At home48%
- At the family bach9%
- Holidaying in NZ21%
- Holidaying overseas8%
- What break? I'll be at work 14%