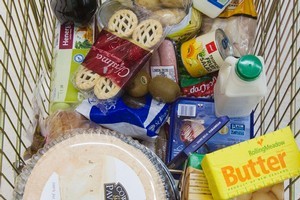 Christmas lunch will cost Kiwis more as food prices continue to rise - and those with a sweet tooth could be hit especially hard.
But if you have a taste for bubbly or can bring yourself to replace some meat and pudding with seasonal fruit and vegetables, costs can be cut.
Statistics NZ figures show food prices increased 1.9 per cent in the year to November, with some items likely to be in desserts this Christmas rising in price by much more.
Strawberries are up 13.7 per cent to $13.38 a kilogram, and the icecream to go with them has gone up 7.6 per cent to $5.82 for 2 litres bought in bulk.
But some vegetable prices were down 8.8 per cent and some fruit dropped by 6.1 per cent.
The price of avocados dropped by 48 per cent, tomatoes by 25 per cent and potatoes by 12 per cent.
And although strawberries were more expensive than they were in November last year, their price dropped by 37 per cent compared with October.
Wine and champagne will cost much the same as during the holidays last year, NZ Winegrowers chief executive Philip Gregan said.
"But often you'll see deals on champagne at cheaper prices at this time of the year than any other," he said.
"There are price deals on champagnes and sparkling wines, because people do buy that sort of wine as a celebratory drink for Christmas."
Increasing international demand meant the industry was on the verge of a change in the supply and demand dynamic, but prices were now stable, Mr Gregan said.
"The key thing for consumers, one is price, but two, you've got to make sure you get the quality that you want. Price is one thing, but there's another equation, and that's quality."
Statistics NZ says the cost of meat, poultry and fish rose by 3.2 per cent in the year to November.
But poultry is a festive bargain, down by 4.7 per cent to $8.32 for a No 15 frozen chicken.
HOW MUCH MORE FOR YOUR CHRISTMAS LUNCH?:
Statistics NZ food price index from November 2010 to November 2011.
- Strawberries 1kg: 13.7% to $13.38.
- White sugar 1.5kg: 12.6% to $3.13.
- White sliced bread 700g: 10.4% to $2.02.
- Ice cream 2 litre: 7.6% to $5.82.
- Beef steak blade 1kg: 6% to $14.62.
- Soft drink 1.5 litre: 5.5% to $2.51.
- Sausages 1kg: 5% to $8.53.
- Sultanas 375g: 2.9% to $2.12.
- White flour 1.5kg: 2.9% to $2.11.
- Milk standard 2 litre: 2.9% to $3.67.
- Chocolate block: 2.3% to $4.02.
- Peas 1kg frozen: 0% to $2.86.
- Potatoes 1kg: -12.7% to $1.58.
- Whole chicken frozen no.15: -4.7% to $8.32.
- Butter salted 500g: -1.4% to $4.15.
- Kiwifruit 1kg: -1% to $3.02.
- Eggs dozen: -0.6% to $3.39.