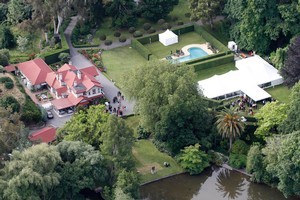 The wedding's over. Now on to the honeymoon.
After the hype and attention of their big day - complete with helicopters and security guards - it's time for Dan Carter and Honor Dillon to get away on their own.
Jockey marketing manager Tanya Foster said she saw Carter for a photo shoot in the past fortnight.
"He was really excited. He just couldn't wait for the wedding and the honeymoon."
She said the couple would head away for a "good six weeks or so".
Harvey World Travel general manager marketing Jodie Burnard's pick for the honeymoon was Africa.
"It's a favourite with the royals and no doubt our 'rugby royals' will follow suit."
Carter may be "off the market" but his market value hasn't diminished.
The All Black star kicker and undies model, who first stripped down to his Jockeys in August 2004, need not fear being a happily married man would reduce his worth in the advertising world. Simone Bell, acting chief executive of the Public Relations Institute, said Carter's brand value would evolve.
"He's not an eligible hunky bachelor any more but he probably hasn't been eligible for quite some time.
"He'll evolve. He's going to be a husband, he'll potentially be a father, he'll have appeal and cachet with new audiences because of that evolution."
Foster said Carter had just signed a new two-year contract with Jockey and she was confident his marriage wouldn't diminish his appeal for the brand.