The young are starting to get the message about the need to protect the environment, but the amount of rubbish is still increasing.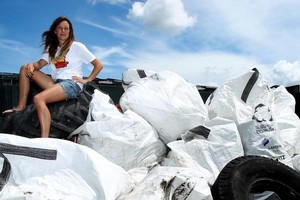 The first Auckland beach clean-up for Christmas netted a record 2.66 tonnes of rubbish.
About 1200 volunteers were ferried to Rangitoto Island on Tuesday to remove rubbish from the sands.
Among the usual haul of plastic containers, bags and litter was a couch, a motorway barrier arm, a large tractor tyre, a broken kayak and a wallet containing a driver's licence and $15 in cash.
It was thought an increase in the number of glass bottles that washed up on the sand was a result of Rugby World Cup events in September and October.
"It is possible some of the extra glass came from the rugby," Sustainable Coastlines head Sam Judd said.
"But we won't find out what real effect the tournament had until a final audit is conducted next week."
Judd believed the amount of coastline trash was increasing but young people seemed to be getting the message about protecting the environment.
He said the Christmas period was a particularly bad time for litter reaching beaches because many festive presents were wrapped in single-use plastic.
"Unfortunately, as consumption of single-use packaging is on the rise, the quantity of rubbish on the coast seems to constantly rise with it," Judd said.
"It is clear, however, that among the school students and organisations that attend our educational presentations and events, we are beginning to achieve behavioural change, which is positive."