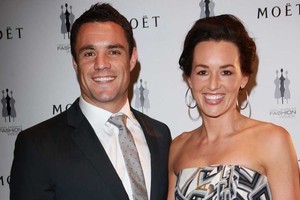 Dan's dad says he'll get himself into trouble if he talks. One of Honor's cousins says he's been sworn to secrecy.
But details are, slowly, leaking out about tomorrow's wedding of the year - All Black pivot Dan Carter's nuptials with former Black Stick hockey star Honor Dillon.
Many believe the couple will marry at the luxury Lake Timara Lodge, just outside Blenheim, featuring 242ha of pasture, a man-made lake, an English-style park, daffodil lawn, and a rose garden with more than 350 roses. A night at the lodge ranges from $800 to $1300 per person, plus GST.
The guest list is expected to include other A-list sportspeople and celebrities, with families of the pair, including several of Dillon's relatives living in Marlborough.
The Herald understands Christchurch songstress Hayley Westenra will perform for the wedding guests.
With the ceremony expected to be the subject of an exclusive women's magazine deal, prying eyes will be kept at bay with roads surrounding the lodge to be closed to the public from 2pm on Friday until 1am on Saturday, and then 9am until 10pm on Saturday "for the purpose of a private function".
David Dillon, a second cousin of Honor's, told the Herald his wife, Sue, was helping with the flowers for the wedding. He will be going to the big event with his wife and daughter.
But he said he could not say anything more because guests had been "sworn to secrecy".
"I don't know any more than you do, honestly. We're just going there with an open mind."
Carter's agent, Dean Hegan, told the Herald he could not make any comment, while Carter's father, Neville, said he would get himself into trouble if he revealed any details.
Asked to confirm the wedding venue, Lake Timara Lodge host Louis Schindler said he could not say anything. "If I could, I would."
Destination Marlborough general manager Tracy Johnston said there had been speculation around town about the big wedding.
"Let's just hope they have a fabulous day and it creates memories of Marlborough for them for the rest of their lives," she said.
A Blenheim florist said the town was buzzing with excitement. "Everybody's sort of talking and guessing. It's a big thing for Blenheim."
But she had not sighted the couple in town - "I think they're very private people".
The MetService is predicting mostly fine weather with a few cloudy periods and light winds in Marlborough tomorrow afternoon.
Carter and Dillon met through university friends and have been together for nine years. They got engaged in Queenstown in October last year.
Last month Carter marked his final days of singledom with a night of partying and bar-hopping during his stag do in Queenstown.
Bar staff said he and a group of about six friends were relaxed and in good spirits during the evening. One resident said they were still out at 8am.
- APNZ