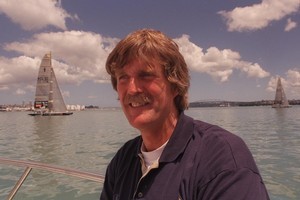 Thirty secondary school students will embark on an 11-day environmental expedition to the remote Kermadec Islands to continue the legacy of Sir Peter Blake.
The yachtsman and environmentalist was killed by pirates in the Amazon 10 years ago.
The Young Blake Expedition, announced during an anniversary tribute to Sir Peter today, will see the students voyage to the islands onboard the HMNZS Canterbury.
Governor-General Lieutenant General Sir Jerry Mateparae said he was sure Sir Peter would approve of the expedition if he were alive and would probably want to take the Canterbury's helm.
"The Young Blake Expedition is a perfect example of this work, with its focus on two things that were dear to Sir Peter: increasing understanding of our fragile marine environment, and providing a chance for young people to reach their potential."
Sir Peter Blake Trust chief executive Shelley Campbell said it was a once-in-a-lifetime adventure to one of the most unique and special places on the planet.
"The expedition aims to inspire an understanding of the global significance of the Kermadec Islands and to encourage stewardship of the Kermadec Marine Reserve. In the latter part of his life, the plight of the planet's oceans was a huge concern to Sir Peter."
The 30 students will be chosen from 50 participants at next year's Sir Peter Blake Youth EnviroLeaders' Forum. They will be accompanied by scientists, artists, educators, communicators and leaders.
The Kermadec Islands are 1000km northeast of New Zealand. The 13 volcanic islands are a nature reserve managed by the Department of Conservation.
The 745,000ha of ocean surrounding the Kermadecs are protected as New Zealand's largest marine reserve.
The expedition crew will have the opportunity to snorkel and gain an understanding of the rich marine life of the Kermadecs. They will experience life on Raoul Island and gain an insight into the work of the DOC personnel, the Kermadecs' history, and the group's wildlife and plants.
- APNZ