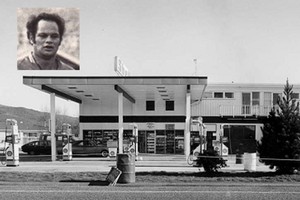 An arrest in the cold case murder of Rodney Tahu has helped put an end to 32 years of pain for the man he was working for on the night he died.
Turangi local Roger Bryant owned the Turangi service station where Mr Tahu was working before he was shot dead on the forecourt in August 1979.
This morning he told Radio New Zealand of his overwhelming relief at news a 70-year-old Rotorua man had been charged with the killing.
"I'm so emotional even now about it. It's such a relief knowing somehow something is going to come about it."
Mr Bryant said Mr Tahu was a loyal, genuine and likeable man who was held in high regard in the Turangi community.
"I felt so sorry for his widow at the time. She had two young boys at the time. What those young boys have gone through with no father.
"He was just a genuine sort of person. He liked people, got on well with people, very loyal and very trustworthy."
The arrested man, who listed his occupation as a real estate agent and has been living in Rotorua since the mid-1980s, was in shock after police knocked on his door with a search warrant on Friday.
He was later charged with the murder that happened early on August 16, 1979.
He appeared in Rotorua District Court on Saturday and was remanded in custody.
Yesterday, wearing jeans and a T-shirt, he reappeared in court and was granted interim name suppression before he was remanded on bail with strict conditions.
Last night, he was at home with two women, who would not comment.
A spokesman for Mr Tahu's family, Colin Hair, said the news of the arrest came as "a bolt out of the blue" for the whanau, who had been resigned to never seeing justice served.
"They are obviously thankful for what the police have done but that's not the only emotion in place. Really, it has uncovered a lot of old memories."
In Rotorua yesterday, Detective Inspector Tim Anderson, the Bay of Plenty police district's crime manager, would not reveal what information led to the arrest.
But he said advances in technology and changes to laws on the admissibility in court of the evidence of dead people had helped.
"These cases are regularly reviewed but it has taken until now for changes in law and technology to act the way we have been able to," said Mr Anderson.
Police could not say if the accused had been a suspect over a long period of time nor could they confirm if they had ever spoken with the man, who will reappear in court early next year.
Mr Tahu's killing shocked the Turangi community and kickstarted a major manhunt.
A passing motorist found Mr Tahu lying in a pool of his own blood next to a petrol pump in the forecourt of the service station.
The Saturday morning rugby referee had suffered gunshot wounds to his head and shoulder and was rushed to Taumarunui Hospital, but died of his injuries at 5.30am.
A former neighbour of Mr Tahu told the Herald the day after his body was found that he was a "faultless father".
"Whether his children were playing marbles or flying kites, he was always there with them," the neighbour said.
Police appealed for witnesses and even asked for help from long-distance truck drivers and citizen band radio operators.
Suspicion naturally turned to a robbery gone wrong, but the service station had been robbed just three times in the previous 10 years.
In the days after the shooting, police tracked and surrounded an armed motorist who shot himself, but survived his injuries.
Eventually, a man was charged over Mr Tahu's death but the case was later dropped due to insufficient evidence.
News of the latest arrest came as a relief to Mr Bryant's son Anton Bryant.
He told the Herald yesterday he was 13 at the time and said the shooting had traumatised his cousins, who lived in one of two flats above the garage.
His own memories included returning to Turangi from his Cambridge boarding school and seeing soldiers at roadblocks.
"The road was all blocked off and they had the army there with metal detectors.
"It was an unreal, surreal situation."
Mr Bryant said his family had always had a theory about who killed Mr Tahu.
He became emotional when he said his family's close friend might finally get justice after 32 years.
"It's quite a considerable relief to know that hopefully justice will finally prevail," he said. "The relief is that finally Rod may be able to rest in peace."
Bay of Plenty field crime manager Detective Inspector Mark Loper said a police team of two reviewing the file six months ago quickly grew to 12 staff.
"Mr Tahu left behind a wife and two children who have had to grow up without a father. For the past 32 years, they have had to grapple with the unresolved circumstances of his death, and it's as important for them as it is for us to be able to make this arrest and put the case before the courts.
Mr Loper said "relationships and allegiances change over time" and he urged anyone with information not previously disclosed to the police to come forward.
1979
* New Zealand's Prime Minister is Rob Muldoon. The Leader of the Opposition is Bill Rowling.
* A 600ml bottle of milk costs 10 cents.
* Air New Zealand flight 901 crashes into Mt Erebus, killing all 257 people on board, on November 28.
* Th' Dudes Be Mine Tonight is New Zealand's single of the year.
* Oil shocks and a declining economy see carless days introduced.