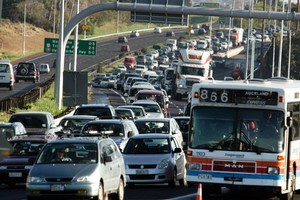 Can you please advise when the Wellington St motorway onramp will reopen, now that the Victoria Park Tunnel is open? Phil Harris, Auckland, Theresa Walsh, North Shore, and Shelly Taylor, Auckland.
Not just yet, I'm afraid. The onramp was scheduled to reopen last month, but this has been deferred until the third lane through the tunnel is completed and ready for traffic.
The thinking behind this decision is that allowing another onramp lane of traffic into the two tunnel lanes currently in use would create congestion.
Tommy Parker, the NZ Transport Agency's state highways manager for Auckland and Northland, said it was necessary to open two tunnel lanes now so that the northbound lanes on the Victoria Park flyover could be closed and prepared for southbound traffic in the New Year.
The tunnel's third lane will be opened in March when construction to widen the motorway through St Marys Bay is finished, and the moveable lane barrier on the Auckland Harbour Bridge is extended to Fanshawe St to improve peak-hour traffic flows.
After next March, when drivers have adjusted to the third tunnel lane and new layout through St Marys Bay, the Transport Agency will have a clearer understanding of the benefits the Victoria Park Tunnel project delivers to the Auckland network.
I would have thought that this would have been done before the tunnel was built.
Anyway, a final decision on the future of the Wellington St onramp is expected about the middle of next year.
A bridge pier is under construction on the SH16 motorway median between Westgate and Brigham Creek Rd. What road will this bridge serve? Construction has no effect on the motorway left shoulder and only slight right shoulder confinement. Construction activity is non-existent in the evenings and at weekends. Why then is there an apparently unnecessary (and disregarded) 70km/h speed restriction at all times, yet at the more confined and busier Lincoln Rd bridge construction the restriction is 80km/h? Clive Preston-Thomas, Riverhead.
The central pier will support the Northside Drive Bridge to be built as part of the Auckland North-West Development project being undertaken by Auckland Council and Auckland Transport. The NZ Transport Agency said it made sense to construct the pier while it was building the Brigham Creek motorway extension to avoid future disruption to drivers.
Worker and driver safety were the reasons behind the NZTA's decision to have the different speed restrictions.
Contractors working on the bridge pier could only access the site from the motorway, and traffic lanes had to be shifted at various stages of the work, so the lower 70km/h restriction applied. However, this restriction has now been lifted, as you probably noticed.