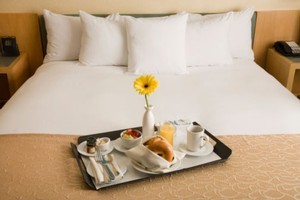 Bedbugs, unwashed sheets and dirty toilets are among the worst "surprises" discovered during hotel stays and many Kiwis say they expect to find the worst on opening their door.
A Travelbug survey of 11,000 people, done by the Trade Me website, asked people about their destination preferences and hotel habits.
Of those, 32 per cent revealed their biggest hotel hygiene fear was discovering unwashed sheets in a room, followed by an infestation of bedbugs (24 per cent), and dirty toilets (15 per cent).
"Maybe people think bedbugs are unlikely but unwashed sheets are quite a real fear - you do hear some horror stories about what people find when they pull back the sheets. But in reality New Zealand hotels are very clean by world standards," said Trade Me head of travel Daniel Bridges.
Those most scared of germs were women aged 18 to 29, with 95 per cent having some hygiene fears, compared with the least concerned - men over the age of 60 - 22 per cent of this agegroup had no hygiene worries.
Consumer-submitted reviews of accommodation in this country showed these concerns were often realised in bizarre ways in hotels, motels and holiday homes.
The most common complaints about Auckland hotels on website TripAdvisor were filthy rooms and facilities that did not live up to their advertising.
Visitors to one south Auckland motel complained of no hot water, cockroaches in the kettle, and pillows that "looked like they had been vomited on".
A traveller who stayed at an $88-a-night motel said he had found human faeces on the office steps, crudely covered up with flowers.
The Travelbug survey also shed some insight into travellers' habits once they were behind the hotel room door.
Men were more likely to wander into the wrong hotel room, with 7 per cent having done so; and 68 per cent of female respondents aged 18 to 25 had no problem taking the hotel toiletries home with them.
Queenstown was a clear winner when it came to the most sought-after destination.
More than 80 per cent of Kiwis planned to travel around the country this summer, with the town topping the list of best destination they had visited and most preferred place to return to.