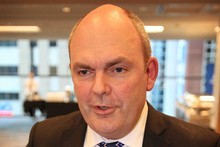 Transport Minister Steven Joyce persuaded his Cabinet colleagues to prevent regional councils from raising local fuel taxes for their own projects, after dismissing Treasury reservations.
The Treasury's defence of a regional fuel tax provision in existing transport legislation is cited in Cabinet papers released under the Official Information Act to Auckland University public health doctor Alex Macmillan, a cycling and walking advocate.
Mr Joyce told fellow ministers that the Treasury supported the overall purpose of law amendments he expects to introduce to Parliament early next year, to help to achieve economic objectives by streamlining the planning and delivery of transport projects.
Amendments approved by the Cabinet include reducing the size of regional transport committees and transferring the transport planning duties of Auckland Council's elected members to the largely appointed directors of Auckland Transport.
The Herald reported last week that the Cabinet papers revealed Mr Joyce rejected advice from the Ministry of Transport, the Ministry of Economic Development and the Ministry for the Environment that the council should retain a direct transport planning role.
He said that the council would retain the ability to influence Auckland Transport's board through its appointment of two of its seven voting members, and should be able to link a new transport programme to its 30-year spatial plan.
Despite his perception of Treasury support for the overall purpose of the amendments, Mr Joyce acknowledged it would have preferred a more thorough legislative review.
He said the Treasury had concerns about removing the existing legislation's regional fuel tax provision without replacing it with an alternative funding mechanism.
Although the Treasury appreciated regional fuel taxes had some practical limitations, it believed retaining legislative provision for them "would send an important signal to the regions about being accountable for funding their transport decisions".
But Mr Joyce said that would result in much higher prices and hand authority to local councils to spend Government taxation.
By Mathew Dearnaley

Email

Mathew