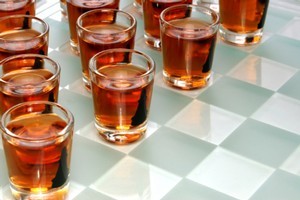 The sale of a drinking game by major retail stores has been labelled irresponsible and as promoting excessive drinking.
Masterton woman Lyn McDonald said she was disappointed to see drinking games on sale in several local stores.
"I just thought that given the reputation us Kiwis have got with drinking, I don't think they should be selling them," she said.
"I don't understand where the responsibility is in promoting drinking games when [alcohol is] a dangerous substance."
Mrs McDonald said with so much information about the negative effects of alcohol, the sale of drinking games seemed inappropriate.
"I would like to know what the hospitals, police and Women's Refuge think about the promotion of drinking games, because it's only going to be the young ones who buy them," she said.
"They're the ones at the bottom of the cliff that have to pick up the pieces."
Alcohol Advisory Council chief executive Gerard Vaughan said drinking games promoted excessive consumption involving large amounts of alcohol being consumed quickly, and could be dangerous.
"There have been people who have died after indulging in drinking games," he said.
"However there appears to be no legal impediments to the sale of such products.
"Therefore, it is up to the individual retailers' sense of social responsibility whether they stock and sell such products."
The Times-Age bought the drinking game Drunken Tower from the Warehouse in Masterton yesterday for $16.99.
The game includes shot glasses and instructions for players to drink, such as "everyone drink" and "drink two with the player to your left".
Staff at The Warehouse Head Office said the company's media spokesperson was unavailable for comment.

For more articles from this region, go to Wairarapa Times-Age