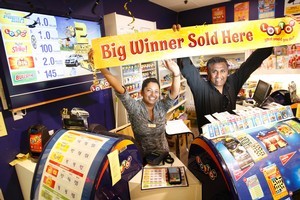 A pensioner's daily visits to his local shopping mall have paid off to the tune of $6 million.
The man, aged in his 60s, bought the winning ticket from St Lukes Lotto in Auckland and returned to the store yesterday to double-check that his numbers were worth millions.
He is now $6.1 million richer after winning the $6 million Powerball prize and a $142,857 share of First Division in Saturday's draw.
When the Herald phoned St Lukes Lotto yesterday, the man was still at the store filling out the paperwork.
He had brought along his son, daughter-in-law and another female relative for support.
The group declined to comment but store attendant Nadeeka Senarath, 27, said the winner visited St Lukes mall every day and always stopped to chat.
She thought she had sold him the winning ticket, with the same numbers he chose every week, last Thursday.
"He's a friendly man, he's very nice. He's always joking too."
After jotting down the numbers and checking them, Ms Senarath called the shop's owner-operator, Presanna Thilakaratne, to confirm the win.
She said it was a thrill to hold a piece of paper worth $6.1 million and both she and the winner handled the neatly folded ticket with care.
Mr Thilakaratne said he believed the winner was retired and lived locally, and he was thrilled one of his regular customers was now a multi-millionaire.
The group were calm when the ticket was put through the terminal to be checked - but could not resist giving Mr Thilakaratne a hint of what was to follow.
"They said, 'This is going to be the major one'."
The man did not indicate how he planned to spend his windfall - but has promised not to alter his routine too drastically.
"He said before he went, 'I'll come and see you next Saturday, and buy the same ticket'," Mr Thilakaratne said.