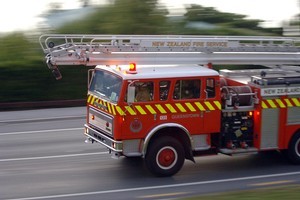 The president of the Foxton Racing Club is baffled as to why anyone would want to destroy their racecourse, which has been set alight three times in the past five days.
The first fire was on Friday, when the grandstand and the race day office were badly damaged in a late-night blaze.
The following night, at about 10.50pm, firefighters responded to calls of a second fire, this time in one of the stable blocks, but it was too late and the structure was destroyed.
Last night firefighters spent about three hours battling a blaze in another stable block, which was severely damaged.
Police are treating all three fires as suspicious and officers from Foxton and Levin have launched a full investigation.
Acting Detective Sergeant Marianne Whitfield said there was a clear link between the three incidents and it would appear a person or people have an "issue'' with the racecourse.
Jim Jaggard, president of the Foxton Racing Club, which owns the damaged buildings, said someone clearly had a vendetta against the club.
"It couldn't be anything else. Someone wouldn't just come along and think `they don't need that so I'll burn it down'. It would have to be somebody who was targeting the club, I would think, trying to burn it down. For it to be three times it would have to be.
"I'm very bloody concerned, I mean, this is only a small town and you get something like this, if they run out of buildings to burn down here, where are they going to go next?''
Mr Jaggard said the racecourse was an important venue for community and was used to host numerous local and national equestrian events, as well as being a venue for school activities.
"It's just unbelievable, I can't understand why anyone would do this.''
Police would like to speak to a man who was riding a push-bike seen in the area at around 11pm on Saturday.
- APNZ