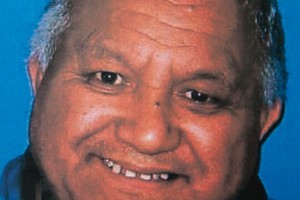 A woman is relieved the return of her long-time partner's body may finally be in sight, four years after he was taken away for a burial against her wishes.
Denise Clarke has been forced to battle through the courts to try to get the remains of James (Jim) Takamore returned to her in Christchurch, after Mr Takamore's whanau in the Bay of Plenty took him to be buried in the urupa (burial ground) at their marae at Kutarere.
Mr Takamore died in 2007 in Christchurch, where he had lived for 20 years with Ms Clarke and their two children. He had chosen to live outside the customs of his Tuhoe tribe, and had asked to be buried in Christchurch.
Yesterday the Court of Appeal ruled in Ms Clarke's favour, paving the way for Mr Takamore's remains to be exhumed and taken back south for burial. However, it is not clear whether Mr Takamore's whanau in the Bay of Plenty will continue to oppose this.
"I'm just very relieved," Ms Clarke told the Herald.
"It's taken so long to get here, but it's just been so worth it. I was prepared to wait as long as it would take - because I knew that was what Jim would have wanted. He would have wanted [to be] near his kids."
In July 2009, the High Court ruled that those relatives who had taken Mr Takamore's body had done so unlawfully.
It found that Ms Clarke was entitled to possession of Mr Takamore's body as the executor of his will, and was entitled to make the final decision about the location of his burial.
Mr Takamore's sister, Josephine Takamore, appealed against the High Court decision and argued that the burial of a Maori deceased was governed by Maori tikanga (customary practices), because Maori custom was part of common law in New Zealand.
Her whanau believed it was Mr Takamore's wish that, if he was to die in Christchurch, he was to be taken back to the Bay of Plenty as he had "no land, no people and nothing down [in Christchurch]".
In a decision released yesterday, the Court of Appeal dismissed Ms Takamore's appeal.
Justice Susan Glazebrook and Justice John Wild found the Tuhoe burial custom could not be recognised by the common law because it did not meet the "criterion of reasonableness".
Ms Clarke's lawyer, Gary Knight, said it was hoped that an agreement could now be reached with the Bay of Plenty whanau, after "two clear court rulings", for the return of Mr Takamore's remains.
If not, an order to enforce Mr Takamore's exhumation could be sought in the High Court.
"We have had a very clear undertaking from the police that if they are presented with clear court orders, they will carry them out," Mr Knight said.
"But that is very much a last resort."
Ms Clarke said she did not want to see conflict "but if we have to, we have to".
"We've gone this far. We are not going to give up now."