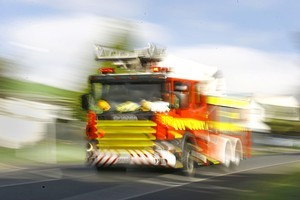 Five helicopters with monsoon buckets and firefighters on the ground have been fighting a blazing pine plantation in the Far North this afternoon.
The fire is spread across a 350 metre front near the southern coastline of the Hokianga Harbour, said a spokesman for the Auckland/Northern Fire Communications Centre, Scott Osmond.
Houses in the historic Horeke settlement about two kilometres away were thought to be under threat earlier, and at least one was evacuated.
However, they were now out of danger, Mr Osmond said at about 4.30pm.
It was "significantly windy" and ground conditions were reasonably dry in the Whitehills Pine Forest area.
Rural firefighters from around the district were securing the flanks of the fire, which broke out about midday.
Mr Osmond told APNZ they expected to be there overnight.
It is not known yet how the blaze started.
- APNZ