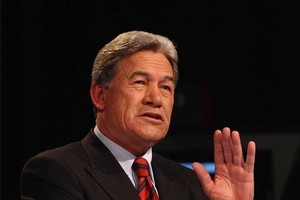 New Zealand First leader Winston Peters is not going to reveal how he learnt of the contents of the tea pot tape.
Mr Peters yesterday revealed to an audience in Invercargill what he understands was said between Prime Minister John Key and Act Epsom candidate John Banks last Friday.
The conversation between the pair - at a public endorsement of Mr Banks by Mr Key - was recorded, allegedly by accident, by a freelance photographer and handed to media, who have all opted not to reveal its contents.
But in a live chat with nzherald.co.nz readers, Mr Peters said was not going to divulge who leaked the details of the "private" conversation to him.
"Information that comes to you in confidence should remain that way."
And don't expect to see the former Tauranga MP enjoying a pot with either of the two main parties' leaders.
Mr Peters agreed with both Labour's Phil Goff and National's John Key that the tea pot saga has been a distraction from the issues.
With the New Zealand First Party hovering just below the 5 percent threshold in some political polls, Mr Peters could once again become the "kingmaker", with the power to chose whether National or Labour would form the next Government.
However Mr Peters reiterated the party's position not to become part of coalition.
"...We are not going into coalition, in brief because there are other parties in the mix who believe in state asset sales to foreigners and a pathway to separatism, such as two flags, separate prisons, separate justice system, separate social welfare system, a new constitution and a foreshore and seabed where some have separate rights as well.
"All the parties you have mention in the mix support those developments and we cannot because we are for one country and we are going to use the votes that come with to oppose those developments."
Mr Peters said from the crossbenches the party will "bring accountability to Government and elevate the primacy of Parliament in our democracy".
"It might sound new, but it's what democracy is meant to be about."
When asked what he would do if the party were not to reach the 5 percent threshold, Mr Peters replied:
"We don't plan to fail. And aren't you pleased about that?
"Politics, for all its failings, is an exhilarating and exciting profession and we don't get obsessed with polls, we set out to create their outcomes in the way we campaign, the old-fashioned ways, face-to-face with the public."