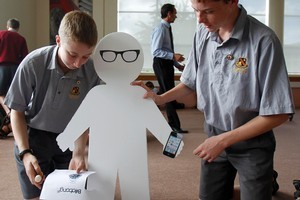 Serenity Scott, Hail-Sage McClutchie and Tyla-Maree Flynn are just a few of the thousands of Waikato children who are abused each year, except these three and many others died.
Last year there were 1800 cases of proven child abuse in the region, out of 22,000 across the country.
But the figure was just the tip of the iceberg, according to Child Matters marketing manager Janine Evans.
These children are the reason Mrs Evans and Child Matters chief executive Anthea Simcock have helped create Buddy Day.
Happening this Friday in Hamilton, Huntly, Ngaruawhaia and Cambridge, Buddy Day is a child abuse awareness event thought to be the first of its kind in New Zealand.
Expected to involve thousands in the community, the day will feature political and business leaders caring for "Buddies" life-size plastic cut-out children who have been dressed by school children before the event.
The 180 Buddies, whose adopted carers include Hamilton Mayor Julie Hardaker and some of the regions MPs, represent 10 per cent of the child abuse cases substantiated in the Waikato in 2010.
"It's just the tip of the iceberg. And a lot of them don't ever reach the media," said Mrs Evans.
One of the underlying problems is secrecy, she said.
"There still hasn't been anyone held accountable [for Serenity Jay Scott's death] and I think that represents the same issues in a number of other cases."
Mrs Evans said Buddy Day was designed to remind people it takes a community to raise a child.
"It's a very hard subject to actually talk about and this is something non-threatening and fun and people feel like they are doing something."
Mrs Simcock said many cases of child abuse were never reported to authorities and children who survived physical, sexual or emotional abuse had to live with the "most insidious long-term effects". She said community members who suspected abuse needed to come forward for the sake of the child. The Buddies will be lined up in Garden Place from 5pm Friday where Mrs Simcock and supporters, including WEL Energy Trust chairman Mark Ingle and Waikato Tainui chief executive Parekawhia Mclean, will speak about the issue.