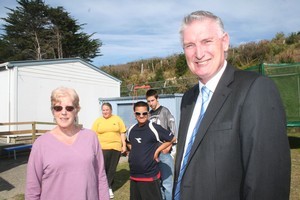 Tamaki MP Allan Peachey was farewelled today by more than 500 people, including the Prime Minister, numerous senior ministers and former students.
The 62-year -old died on Sunday after fighting illness for some time. At his service at St Peter's Anglican Church in Takapuna, family, friends, colleagues and students gathered to remember a man who made a huge impact on many people around the country.
His children spoke of a loving father who was always there for them, no matter what.
They also spoke of their pride in his achievements as a politician.
Friends spoke of a man who in every respect - and despite his illness - always put his constituents first.
Rangitoto College associate principal Don Hastie said he had made a huge impact on the school during his time as principal.
Most of the National Party's senior ministers attended the service, including Lockwood smith, Simon Power, Paula Bennett, Nick Smith, Anne Tolley, Bill English and Murray McCully, who spoke during the service. Mr McCully delayed his trip to the Apec meeting to be at the funeral.
Rangitoto College students formed a guard of honour outside the church to farewell their former principal.