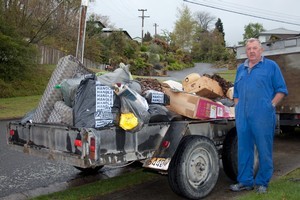 A toddler lived in a "houseful of druggies" surrounded by violence, syringes and burnt spoons for months while calls to support agencies went unheeded.
Landlord Larry Palmer said it was only once he had the woman forcibly evicted that social services acted.
Work and Income finally moved the evicted tenant out but left him to clean up syringes, needles and burned spoons.
The Taupo retiree had to return to work to pay for $3500 rent arrears and damage caused to the property in the seven months the woman - who has a 2-year-old son - rented the property.
Palmer, 70, tried for three months to move his tenant from the house after hearing reports of violence at the hands of the woman's former partner and continued drug use at the property next door to his family home.
He contacted WINZ, Child Youth and Family and the Taupo police but said his concerns fell on deaf ears. Even when a woman died of a suspected drug overdose at the house, Palmer said he was kept in the dark.
"It has been an absolute nightmare," Palmer said. "Everyone said it was out of their jurisdiction. We finally got her out through Tenancy Services."
Palmer called CYF out of concern for the woman's toddler but said the case worker made him feel "like a second-class citizen" and told Palmer the boy was fine.
"I said to her he might be getting his tucker but what is it doing to him? He's living in a house full of druggies," Palmer said. "You have no idea the mess this house was in. We found drugs, syringes, needles and every spoon in that house was burnt."
Palmer said an eviction notice was finally served through the Department of Building and Housing. Then CYF took the woman and her son to a safe house and put her furniture in storage.
"They came, took all this woman's furniture away and left us with the mess. They said 'we don't pay for the mess to be taken away'," Palmer said.
Grant Bennett, from Child Youth and Family, confirmed the mother and son had been provided with new, supervised accommodation.
"As part of an urgent safety assessment, social workers spoke to the woman's landlord, who also expressed serious concern for the safety of this child," Bennett said.
"Child, Youth and Family have arranged supervised accommodation for mother and child and have placed her belongings in temporary storage while we complete our assessment of the situation."
Janet Grossman, of Work and Income, said the agency provided assistance with accommodation costs but the housing arrangement was between landlord and tenant.
"There are legal avenues open to landlords, including the tenancy tribunal and the courts, to recover unpaid rent or compensation for damages," Grossman said.
St John Ambulance operations manager Graeme Harvey confirmed they were called to the address on September 22 and found a woman had died.
"We attended to a female patient in her 40s but, unfortunately, she was already deceased. She was in the main living area of the house."