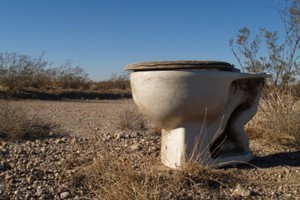 A pensioner has been convicted for stealing rubbish from a Hawke's Bay refuse station.
Peter Ewart Lloyd, 65, appeared in Hastings District Court yesterday to admit to one charge of burglary after the incident on October 2.
Lloyd parked his truck next to the main entrance of the Black Bridge Transfer Station and climbed a locked gate to get access to the dump pit about 7.30pm.
Once inside he took a toilet cistern, computer keyboards and electrical cables from the pit.
Acting on a tipoff, police caught him with the stolen gear inside his vehicle.
He explained the items were for his own use.
His lawyer, Roger Philip, said although the property was technically owned by the local council, his client had been caught only "stealing rubbish from a rubbish dump".
Judge Bridget Mackintosh conceded the items were "rubbish" yet said it wasn't for the "public to help themselves".
Lloyd was convicted and put on a good behaviour bond for six months.
"If there's no more offending then there's nothing more to worry about," Judge Mackintosh said.

- APNZ