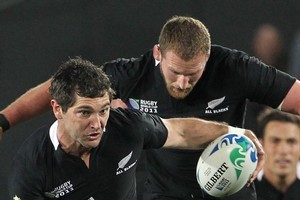 The mother of surprise All Black hero Stephen Donald says her son has proven his critics wrong with a Rugby World Cup-winning performance.
Donald was the fourth-choice All Black first-five before the Rugby World Cup began, after several heavily criticised Tri-Nations performances.
Last night, with the All Blacks first five ranks decimated by injury and the William Webb Ellis cup on the line, he calmly stepped up to kick a match winning penalty before spending the rest of the match running strongly and kicking the side out of trouble.
Sheryll Donald this morning said she never doubted her son would turn in a great game when he was called off the bench with 50 minutes to go.
Seeing him rescue the flagging All Blacks side was one of the proudest moments of her life, she said.
"It was amazing. It was great.
"I spoke to him soon after the match. There is definitely joy at the win."
Though the family have not spoken publically about the criticism levelled at her son, they were satisfied his performance had proved the doubters wrong, she said.
"That's something we've kept amongst ourselves. He's had a lot of upset comments. A lot of papers that have been a little bit unfair.
"He definitely proved them wrong."
Donald the forgotten man
When the Rugby World Cup show rolled into town in September, Donald was one of the forgotten men of New Zealand rugby.
Last night he calmly stepped up and helped the All Blacks to their first Rugby World Cup title in 24 years.
When Dan Carter and Mils Muliaina were injured Donald got the call up.
He could never have predicted the turn of events and was on the banks of the Waikato River whitebaiting. So absorbed in his task he missed two calls on mobile phone from selectors.
After his call-up he said he'd kept up his fitness while enjoying watching the World Cup on TV. The next rugby he would have expected to play was in England for Bath, where he is contracted.
On arriving in camp, Donald shrugged off the criticisms he'd attracted throughout his career.
Asked about Stephen Donald's journey towards the final, Richie McCaw said: "I think the key to that is expecting stuff like that to happen.
"If you hope for the best and don't prepare for adversity when it comes or something happens you can't deal with it. You lose a guy like DC [Dan Carter] its easy to drop your lip, but when the next guy stood up and the next guy ... Beaver [Donald] at the end - Jeez he was composed. I take my hat off to him."
The crowd roared when Donald's first real act of the game was to slot a penalty. Later he was still a tower of strength, booting the All Blacks out of danger and allowing them to claim victory.
And after the game, Henry remembered him: "Didn't he do well. Steve Donald. Superb."