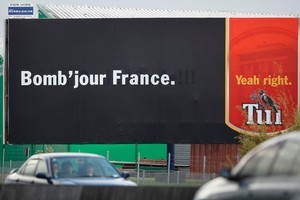 Tui beer company has taken its edgy and often controversial "Yeah Right" ads to the All Blacks and France Rugby World Cup final with the phrase "Bomb'jour France".
It's a reference to the deadly 1985 bombing of Greenpeace ship Rainbow Warrior in Auckland Harbour by French secret service agents.
Tui spokeswoman Jo Jalfon said the billboard was a bit of topical fun, and the brewery bore no ill will to French people.
"I don't think any Kiwi really does," she said. "I think Kiwis realise it's not the French people involved in the bombing."
Jalfon said the billboard would be swapped for another phrase after tonight's Rugby World Cup final.
But some French fans may find themselves cheering for their country today on the very wharf where the Rainbow Warrior was sunk, killing Greenpeace crew member Fernando Pereira.
Auckland Council has opened Marsden Wharf as an additional fanzone holding up to 4500 people, and will show the final on a large temporary screen.
Green Party co-leader Metiria Turei suggested yesterday that information about the Marsden Wharf's tragic history be provided to visitors.
She said the council's decision to open Marsden Wharf as an extension to Party Central was "curious".
"I suspect they may not have thought that all the way through."
She called for the council to show respect.
"I think some sensitivity is needed, to be honest, because a man was killed there after all. So it probably would've been wiser not to have done it, under the circumstances," Turei said.
Fanzones spokesman Peter Winder, of the Ministry of Economic Development, said the decision to open the wharf to fans was made last week.
"We were aware of the history of the Rainbow Warrior. The key driver was our desire to make sure we had adequate capacity to deal with the very large crowds we are expecting to watch the final.
"It was entirely driven by us wanting to provide a safe and secure space to watch the game that was self contained and adjacent to the infrastructure that we already have in place."
Winder said that no signs acknowledging the Rainbow Warrior were going to be on the wharf and that signs had not been considered.
Among the sea of black-clad supporters tonight will be Frederic Lachaux, who is visiting with his family from Montpellier, France.
Although he will be supporting his home country, he does not condone its actions on the protest boat.
"It was bulls*** from the French Government. Pure bulls***. It was a mistake."
He said his friends at home all shared his view and mentalities had changed since the bombing.
"I believe the French don't remember as the New Zealanders do - it was 25 years ago."
Greenpeace NZ executive director Bunny McDiarmid, who had been aboard the Rainbow earlier that evening, said the most important thing was that the bombing never be forgotten. "It's not something I have made peace with," she said. "But it was never an anti-French thing. It was an anti-nuclear thing. There is no animosity there."
McDiarmid will be watching the final from home - she doesn't like the big crowds.
- APNZ